Strategize and organize your daily reminders with Viotek's Memo Board!
A neat space says a lot about a person. With this spectacular monitor accessory, missed deadlines and cluttered desks are now things of the past. Featuring a strong 3M adhesive backing and a minimalist design, the memo board is your next big step in gaining that extra boost of productivity.
Record important numbers, pin motivational photos, charge your phone, or draw directly onto the board! The more organized you are, the more coordinated are your priorities.
Built-in Smart Phone Charging Port
Easily mount your phone onto the memo board's built-in shelf and plug in your charger through the bottom cable hole. That way, you can keep an eye on texts or calendar reminders on a full charge!
Memo Stickers Included
The Viotek Memo Board comes with a set of colored sticky tabs to give you a head start in keeping track on daily reminders. Color-code your schedule or bookmark your favorite chapter. The choice is yours!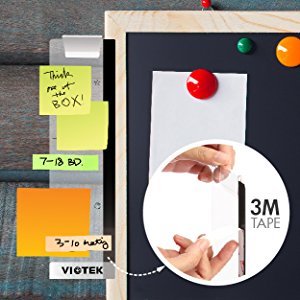 Strong 3M Tape That Sticks Anywhere
Backed with a strong 3M adhesive attachment, you can mount up to 7 oz/0.4 lb without damaging or obstructing your computer screen. Simply peel off the film, apply your memo board onto your monitor, and you're ready to take notes!
Post or Photo Clipper
From 3×2" cards to full-size papers, the organizer's built-in clip firmly clasps various types of documents as you type away. Pin up business cards, archives, motivational photos, and more!