Description
VIOTEK 32" Ultraslim Borderless QHD Monitor: For Quality Beyond High Definition
Upgrade your technological experience with VIOTEK's carefully crafted products meant to deliver the digital immersion you want. Take a step above HD with the new VIOTEK 32" QHD Monitor featuring irresistible picture quality in 16:9 widescreen. It comes with an accessible control panel for adjusting monitor settings to match your preferences. From movie and FPS game mode to EyeSaver mode, optimize viewing to suit your needs with the preset modes. The VIOTEK 32" QHD Monitor functions with low power consumption and has a 0.5W standby capability for energy-efficient use. It even comes with DVI, HDMI, and DP connectivity, so you can have the setup you want for gaming, movies, or daily work. Power up your computer with VIOTEK's 32" QHD Monitor.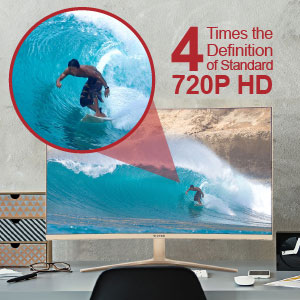 QHD Resolution
2560 x 1440p quad high definition creates images your eyes will love. QHD takes quality to the next level with four times the definition of standard 720p HD, so digital pictures will look as crisp and colorful as its real-life comparison.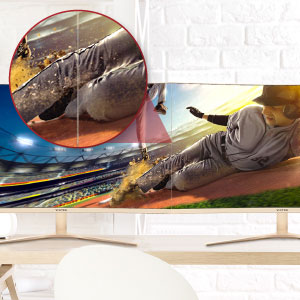 32" Borderless Design
Take your monitor viewing to the edge with VIOTEK's borderless design. The 32" infinity style screen provides expansive viewing of your shows and games for a computer experience that's unbelievably sharp, sleek, and sexy.
Ultraslim Digital Immersion
The ultraslim design curves around your field of view for immersion with unparalleled clarity, quality, and performance. Be captivated each time you binge watch TV shows, load a new RPG, or start on homework!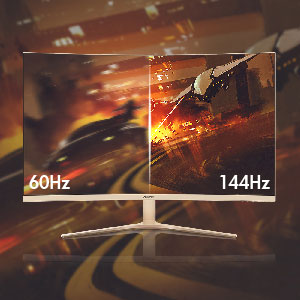 The Performance you Crave
The VIOTEK 32" QHD Monitor boasts a 144Hz refresh rate, AMD FreeSync, and Overdrive Acceleration for day-to-day computer use free from lag, tearing, and ghosting. You'll have superior performance with seamless frame by frame transitions!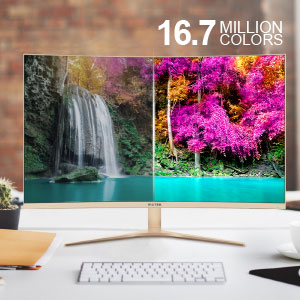 Eye-Popping Picture Quality
With 20,000,000:1 DCR and 16.7 million colors, the VIOTEK 32" QHD Monitor delivers vibrantly breathtaking photos and scenes that will mesmerize with each use.