Description
Lose yourself in the game; don't lose the game.
How many times has a game really transported you to an alternate world? The game flows smoothly and realistically, the graphics are spot-on, and the audio makes you feel like you're really there. And then… The graphics glitch out, frames skip, someone clips through a wall, and it turns into a pixelated mess. Don't fret! The VIOTEK GFI24CBA is precisely engineered for you. We've assembled all the features that gamers need and fit them into one sleek, budget-friendly package.
We start with the IPS panel, expertly engineered for color-rich images, flicker-free video, and rapid-fire response time. See your RPG's massive open worlds of rolling hills and babbling brooks rendered as the game developers intended, filled with energy and life. The colors are stunningly accurate, with the wide 99% sRGB color gamut showcasing every detail. The one-million-to-1 dynamic contrast ratio means that blacks are deep, whites are bright, and RGBs are rich and vivid.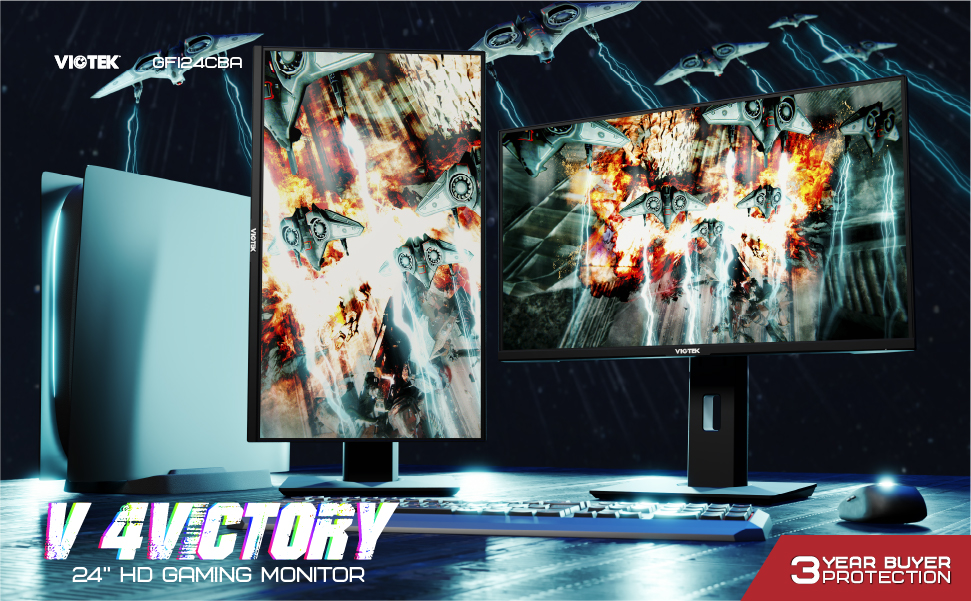 The 144Hz monitor refresh rate delivers all the action flawlessly smooth. But it's not just about the response time: MPRT mode turns pixels on and off in the blink of an eye. Fast motion feels smother and more realistic, removing artifacts like motion blur and ghosting. Whether you're a fan of FPS shooters, MMORPGs, or RTS strategy games, your video is flicker-free, smooth, and with minimal lag.
Increase your accuracy during FPS games and turn every shot into a bullseye when you turn on GAMEPLUS targeting crosshairs. Activate FPS/RTS display optimization and bring out extra detail in darker, shadow-heavy games and see your enemies before they see you.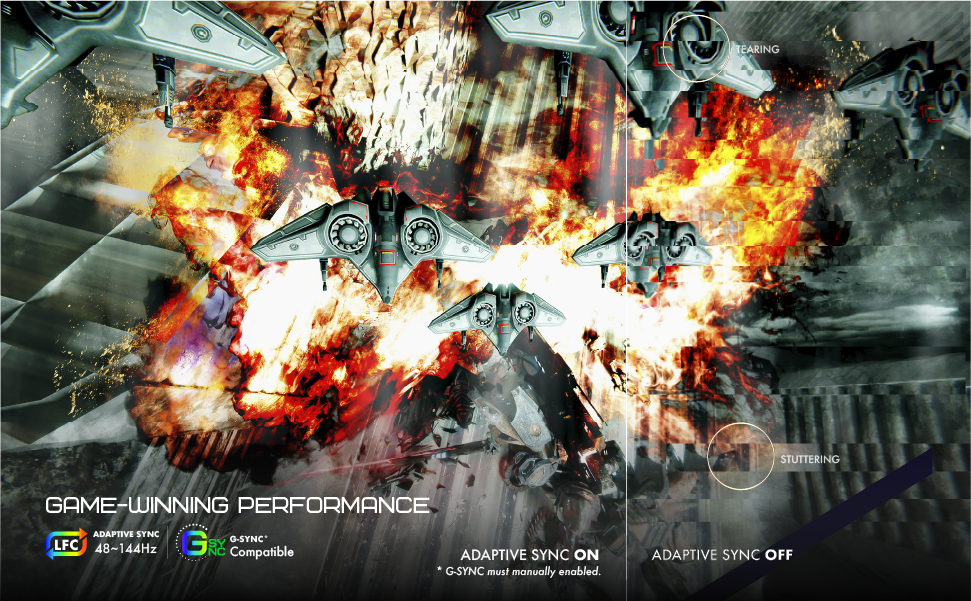 The GFI24CBA's clean look fits perfectly in any space, letting you focus on your game or movie—even work—without distraction. The fully adjustable 4D stand lets you change the height, tilt, swivel, and even pivot the monitor to find your perfect viewing angle. Or mount the monitor to a wall using VESA and make every seat the best seat in the room.
We're so sure of every monitor's quality that if you see a single dead pixel, we'll give you a replacement. Have any questions? Simply reach out to our customer support staff, available via e-mail, phone or live chat. We're ready to help.
Specifications:
Display
– Dimensions: 21.23 x 19.48 x 7.48 in.
– Weight: 10.65 lb.
– Screen Size: 23.8 in.
– Panel Type: FFS IPS
– Resolution: FHD (1920x1080p)
– Brightness: 300 cd/m2
– Viewing Angle: 178° H / 178° V
– Height Adjust: 5.12 in.
– Tilt Adjust: Forward 5° (+3°); Backward 20° (+3°)
– Swivel Adjust: 45° (+3°)
– Pivot Adjust: 90° (+3°)
Performance
– Refresh Rate: 144Hz (max.)
– Response Time: 4ms (OD); 7ms
– Displayable Colors: 16.7M
– Color Gamut: 98% sRGB, 72% NTSC
– Contrast Ratio: 1000:1
– Dynamic Contrast Ratio: 1M:1
Ports
– 1x HDMI 1.4,
– 1x HDMI 2.0,
– 1x DP 1.2,
– 1x 3.5mm audio out
– 1x USB 2.0 (for firmware updates only)
Other Features
– 4D Fully Adjustable Stand (Height, Tilt, Swivel, Pivot)
– G-Sync/FreeSync compatibility
– FPS/RTS Optimization
– GAMEPLUS crosshairs
– MPRT Mode
– Adjustable gamma, hue, and saturation
– 7 Picture Modes (standard, photo, movie, game, FPS, RTS, sRGB)
– Blue Light Filter
– VESA (100×100 mm)