Description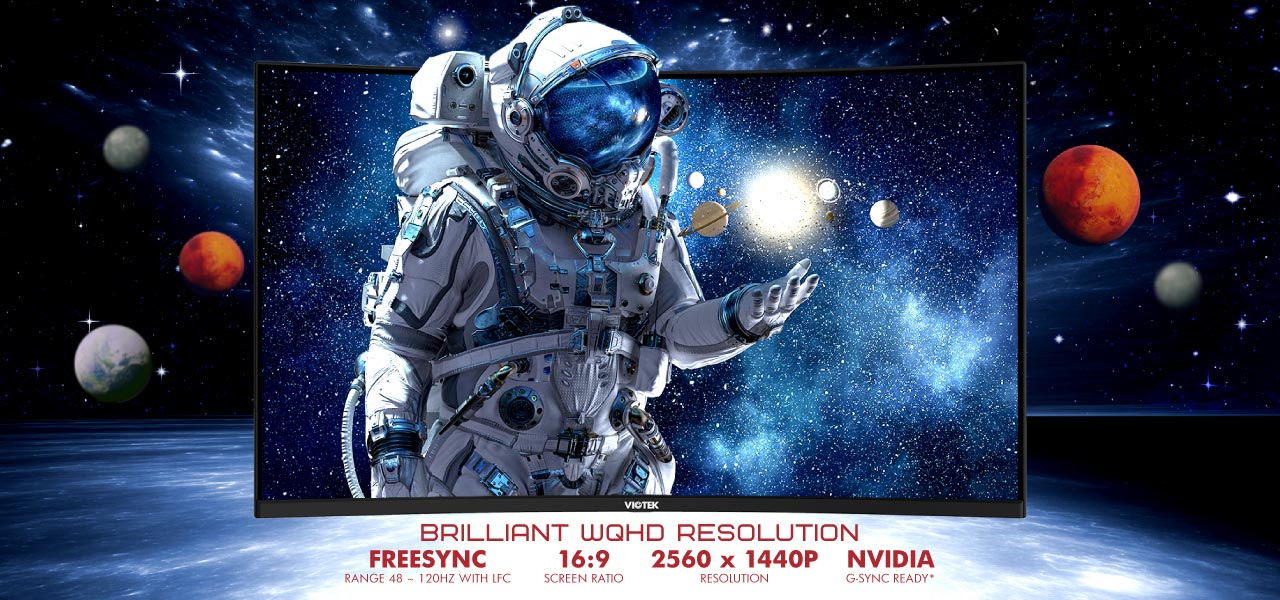 VIOTEK GNV32DB 32-Inch 144Hz QHD 2K Curved Gaming Monitor | Pure Cinema-Ready Excellence
Games that pull you into the action. Movies that completely draw you in. Images so life-like, you might forget they're just pixels on a screen. That's the beauty of the GNV32DB – the latest curved 32-inch monitor from VIOTEK. From its blazing fast 144Hz refresh rate to the deeper, tighter 1500R curvature, everything about the GNV32DB is designed to add value to your workspace, office or game station, while keeping more money in your pocket. It's a feature-rich monitor you don't need to be rich to own.
Binge, Battle or Business – You're Covered!
Working from home more than before? Then you'll appreciate the high 144Hz monitor refresh rate and the tighter 1500R curvature, both combined to deliver a more relaxed, comfortable viewing experience. But that's not the only way the GNV32DB makes working longer and playing harder easier on your eyes. The low blue-light filter complements the anti-glare treated screen to help reduce eyestrain and minimize headaches caused from long hours of work, extended study sessions and intense gameplay. The OSD menu gives you the ability to adjust the display settings to find the perfect balance of brightness, contrast and detail. Need sharper text for spreadsheet work? Want a warmer color for all-day movie binges? You got it. And with VESA, you can easily mount the GNV32DB to a wall or VESA monitor mount to make every room the best seat in the house.
Specifications
Net Weight: 15.58 lb. (7.07 kg) | Dimensions (with stand): 28.05 x 19.9 x 8.91 in. (712.5 x 505.6 x 226.5 mm) | Display Size: 32 in. | Display Type: VA Panel | Curvature: 1500R | Resolution: 2560x1440p (QHD) | Screen Ratio: 16:9 | Refresh Rate: 144Hz (max.) | Response Time: 6ms (GTG) / 4ms (OD) | FreeSync Range: 44Hz – 144Hz | Viewing Angle: H178° / V178° | Displayable Colors: 16.7M | Color Gamut – sRGB: 107%, – NTSC: 85% | Contrast Ratio: 3000:1 | Dynamic Contrast Ratio: 1M:1 | Brightness: 250cd/m2 | VESA: 75x75mm | Ports: 1x HDMI 2.0, 2x HDMI 1.4, 1x DisplayPort 1.2 (cable included), 1x 3.5mm Audio Out | Tilt-Adjust: -5° / 15° | Additional Features: Overdrive, GAMEPLUS, AMD FreeSyncTM w/ Low-Framerate Compensation, G-SYNC Compatible*, Dual-Input PIP/PBP, On-Screen Display Options, FPS/RTS Display Optimization, Anti-Glare Treated Screen, Low Blue-Light Filter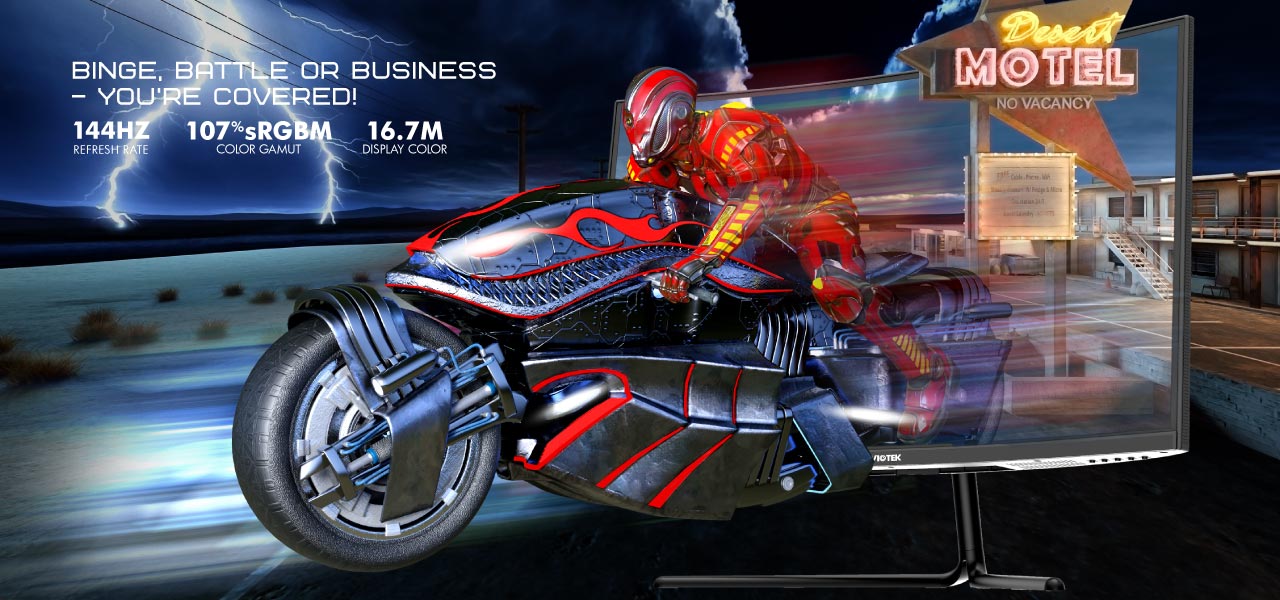 Ready for the Big Screen
Everything's better when you have more pixels – and the GNV32DB has plenty to spare! This PC gaming monitor continues our tradition of bringing pure pixel power to expertly crafted VA displays. This means you'll get a wonderful 16:9 widescreen QHD monitor resolution (2560x1440p) that's ready to deliver cinema-quality video straight to you. The 3000:1 contrast ratio (1M:1 DCR) and full 107% sRGB color gamut means that you'll have truly phenomenal lifelike images with exquisite detail. And while other VA monitor displays might sacrifice speed for amazing, rich color, the GNV32DB absolutely does not. With overdrive response time of 4ms (GTG), you can have rapid-fire reactions when you need it.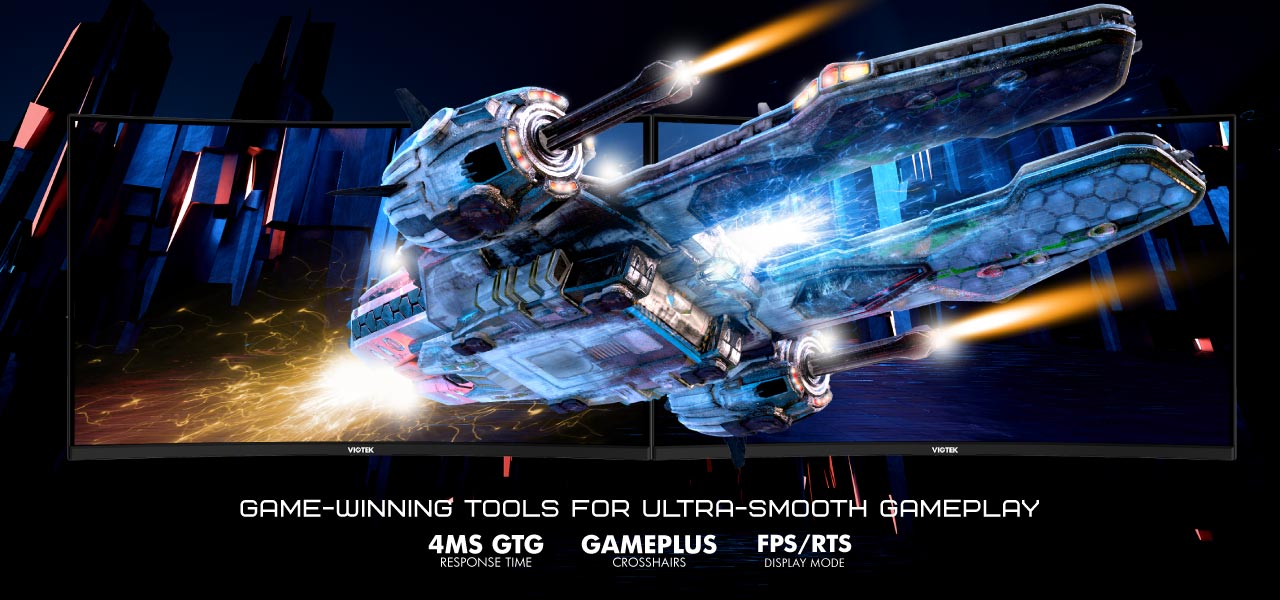 Game-Winning Tools for Ultra-Smooth Gameplay
AMD FreeSync with low-framerate compensation (LFC) with a range of 48-144Hz creates a dynamically smooth gaming experience. It helps ensure the frames rendered by your PC's GPU is synced perfectly with the monitor. It's an advanced process that eliminates graphical distortions during gameplay, including image tearing, ghosting and stuttering. Turn on FPS/RTS optimized display settings to bring out extra detail in darker games and never be surprised by snipers lurking in the shadows again. And with G-SYNC compatibility, you can easily use the GNV32DB with NVIDIA graphic cards. No need to buy overpriced GSYNC monitors. The GNV32DB is all you need.
Connection Flexibility = Complete Freedom
The three HDMI ports, including one high-speed 2.0 HDMI port, and an optimized DisplayPort (DP) give you the flexibility to connect to the devices you need and the freedom to seamlessly incorporate the desktop monitor into your existing space. Use it as a second monitor. Set it up as an additional laptop display. Connect your game console and enjoy an Xbox monitor or monitor for PS4 that has access to the highest possible resolution at the fastest speeds. (And with recent updates, you'll be able to enjoy the liquid-smooth AMD FreeSync with your Xbox One S/X when you connect via the HDMI 2.0 port.) The integrate dual-port PIP/PBP lets you use one screen for multiple connected devices, great for setting up livestreams. It's multitasking made easy, letting you get more work done with greater efficiency.
Top-of-the-Line Service & Support
We strive to bring to market high-quality, value-packed products. And we're so confident in our 32-inch 2K monitors that we include a zero-tolerance dead pixel policy — the best in the market. Whereas other monitors for gaming require a cluster of 5 or more dead pixels, we'll honor a replacement if you just see one single dead pixel. You see it; we'll squash it. No questions asked. And our monitors are protected with a 3-year limited buyer protection, fully backed by an American company.