Description

Power Up with the Viotek NB27C LED Monitor
The NB27C is one of the best curved computer monitors on the market today. Featuring 1920x1080p resolution, 20000000:1 DCR, and 1800R curvature, the Viotek NB27C provides big, stunning picture like you've never seen it before.
With an 8ms response time (GTG) and 60Hz refresh rate, the NB27C helps you beat bosses to the punch and enjoy a truly dynamic visual experience. Adjust the tilt angle between -5° to 15° and let this 27 inch monitor dazzle your senses.
The 27" NB27C curved monitor weighs a sturdy 14.8 lbs, allowing you to place it on a desktop or in busy creative spaces without worrying about the occasional bump. Pull up a seat and enjoy as the NB27C's 1800R curvature allows for an ample 178° viewing angle so you can see its brilliance from just about anywhere.

Get Connected for a New Kind of View
The NB27C comes with a curve radius of 1800R for an ultra-immersive experience that puts you inside a whole new world. Plug in with a wide range of connectivity options. The NB27C comes with VGA (D-sub), DVI-D, and HDMI ports, as well as a VGA cable to get you set up right out of the box. With the NB27C, choose how you can connect and experience an all-new world. Battles have never been more realistic, videos have never been this hypnotic, and word documents have never been this captivating.
Tailor Your Viewing Experience
The NB27C comes with preset movie, gaming, and reading modes to allow you to get most out of your monitor. Whether you're watching a foreign flick, gaming the day away, or reading an e-book or online novel, the NB27C helps you optimize your experience via these options and more in the easy-to-use OSD menu.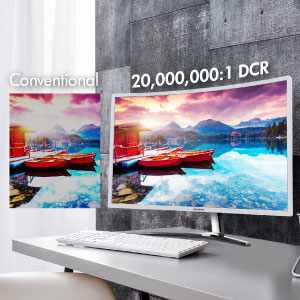 Crisp, Vibrant Picture
This is what dynamic contrast looks like. The NB27C uses a 20000000:1 DCR to add more complexity and depth so each hue in the monitor's 16.7M color range pops on screen. With the NB27C, you can see more vibrancy than ever before.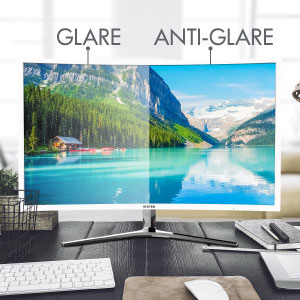 See the Way You Were Meant To
The NB27C curved monitor features an anti-glare panel that ensures bright, clear picture without worries about light from other sources reflecting and reducing display visuals. Play games, study, or just browse the internet while your view on screen stays bright, colorful and as sharp as ever.