Description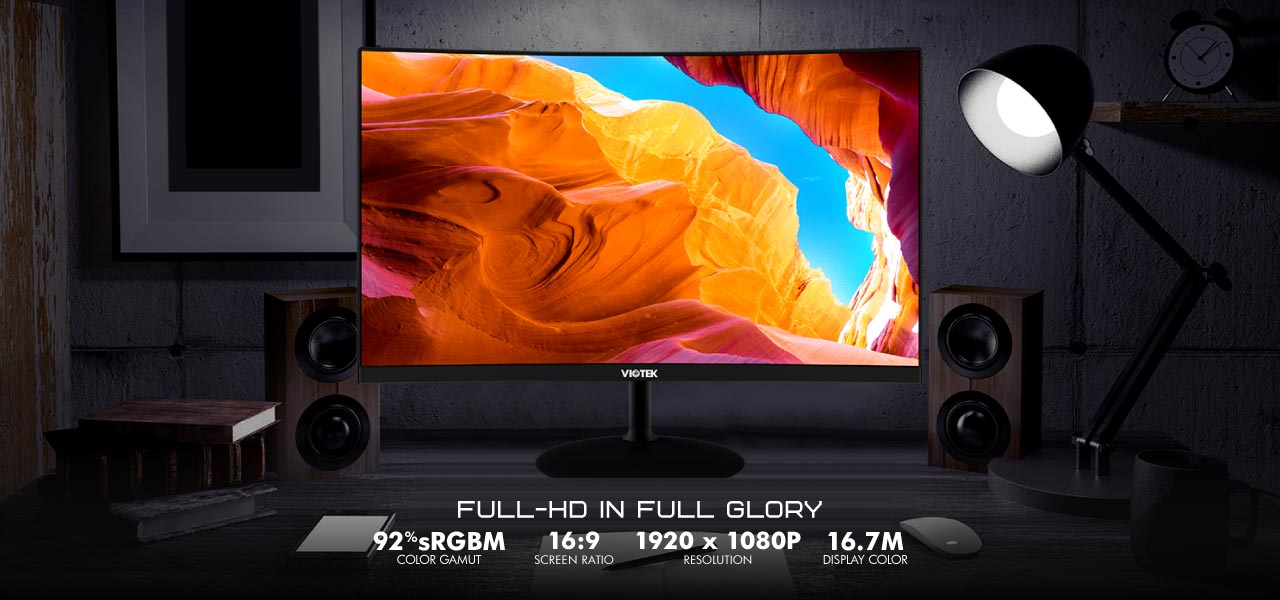 VIOTEK NBV24CB 24-Inch Curved Monitor with 1500R Curvature and Enhanced 75Hz Refresh Rate
Don't confuse "simple and affordable" with "boring and cheap" — because we didn't. Our updated office-ready 24-inch curved monitor delivers spectacular images with fine detail in every pixel. All with an elegant, unassuming design that complements any workstation, from the home to the office and everywhere in between. Enhanced refresh rate. Impeccable color reproduction. Ultra-sharp images. You've been upgraded. Welcome to the new business class.
Full-HD in Full Glory
Breathtaking clarity. Fine details. Deep, rich colors. That's what you get from an HD monitor with a VA panel engineered by experts. The 75Hz monitor overclocked refresh rate makes for smoother video, with less dropped frames — great for teleconferences, video chat and presentations. Beyond that, the enhanced rate is easier on the eyes, something you'll happily notice if you spend long periods in front of a screen.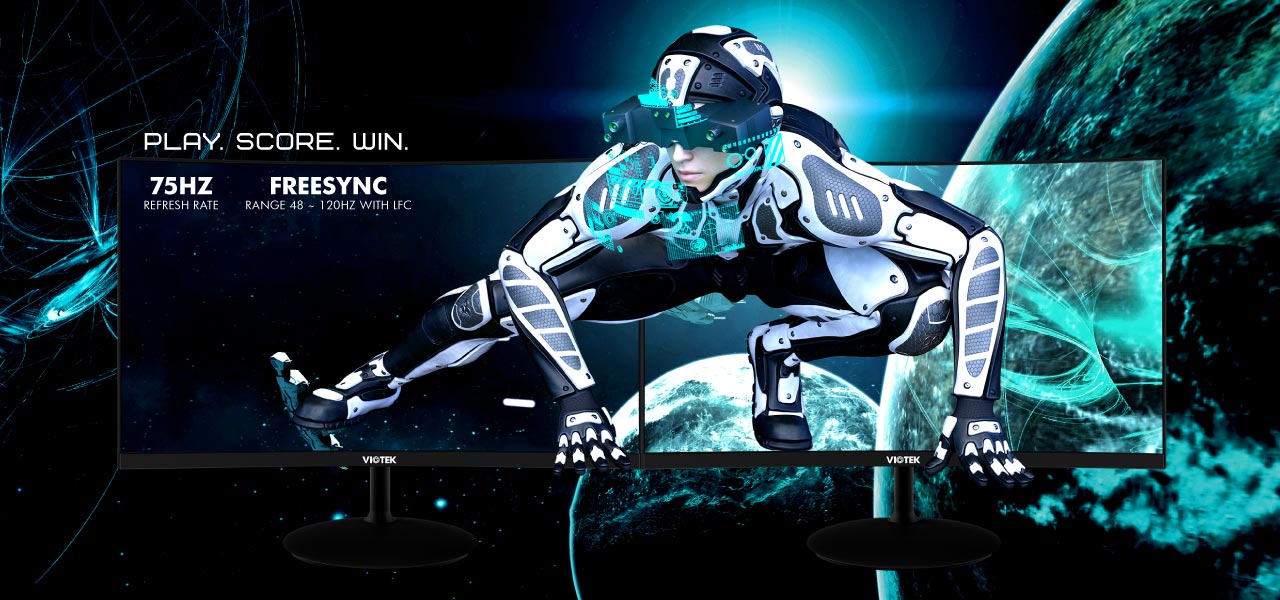 And we've engineered the VA panel to deliver color that's filled with amazing depth while maximizing accuracy. We're talking 16.7 million displayable colors, 92% sRGB color with 1M:1 DCR. So blacks are deep, whites are dazzling, and greens and reds are vivid. The updated OSD menu lets you fine-tune your display options exactly how you need it for optimal viewing. Increase sharpness in text-based programs. Enhance color complexity and richness in images. Bring out detail in darker videos. This makes watching your favorite movies or T.V. shows on this 16:9 widescreen display nothing short of wonderful.
The NBV24CB is the update to our highly successful NB-series monitors. We've taken everything that made that series great and made it even better. An upgrade in every sense of the word.
Specifications
Net Weight: 6.61 lb. (3 kg) | Dimensions (with stand): 21.22 x 8.17 x 16.27 in. (539.2 x 207.7 x 413.5 mm) | Display Size: 23.6 in. | Display Type: VA Panel | Curvature: 1500R | Resolution: 1920 x 1080p | Screen Ratio: 16:9 | Refresh Rate: 60Hz (75Hz OC) | Response Time: 8ms (GTG) | Viewing Angle: H178° / V178° | Displayable Colors: 16.7M | Color Gamut – sRGB: 92%, – NTSC: 68% | Contrast Ratio: 3000:1 | Dynamic Contrast Ratio: 1M:1 | Brightness: 250cd/m2 | VESA: 75x75mm | Ports: 1x VGA, 1x HDMI 1.4 (cable included), 1x 3.5mm Audio Out | Tilt-Adjust: -5° / 15° | Additional Features: Overdrive, GAMEPLUS, AMD FreeSync, On-Screen Display Options with FPS/RTS Optimization, Anti-Glare Treated Screen, Low Blue-Light Filter
More Ergonomic Field of Vision
The monitor's deep 1500R curvature gives you a truly immersive widescreen monitor experience like no other. The tighter curve fully envelops your field of vision. This helps the NBV24CB produce images with drastically reduced edge distortion and significantly less glare than 1800R monitors and flat-panel monitors. The end result? Bigger looking images and enhanced depth perception. It's the deep curve that puts you right at the heart of the action and into the movie.
Game-Winning Features for Everyone
You don't have to be a pro player to reap pro-gamer benefits. The NBV24C comes with our advanced suite of features — a favorite among leading players in the gaming industry. AMD Freesync eliminates screen tears so that you can game without image distortion, such as stuttering, tearing or ghosting. Activate GAMEPLUS integrated crosshairs for enhanced accuracy, even on games that disable crosshairs, and deliver bullseyes every time. So whether you're an avid or a casual gamer, you'll have the tools to get on top of the boards — and stay there.
Best-in Class Service & Support
Affordable monitors don't have to be cheap monitors. We strive to bring to market high-quality, value-packed products. And we're so confident in our 24-inch monitors that we include a zero-tolerance dead pixel policy — the best in the market. Whereas other monitors for gaming require a cluster of 5 or more dead pixels, we'll honor a replacement if you just see one single dead pixel. You see it; we'll squash it. No questions asked. And our monitors are protected for 3-years, backed by an American company.