Description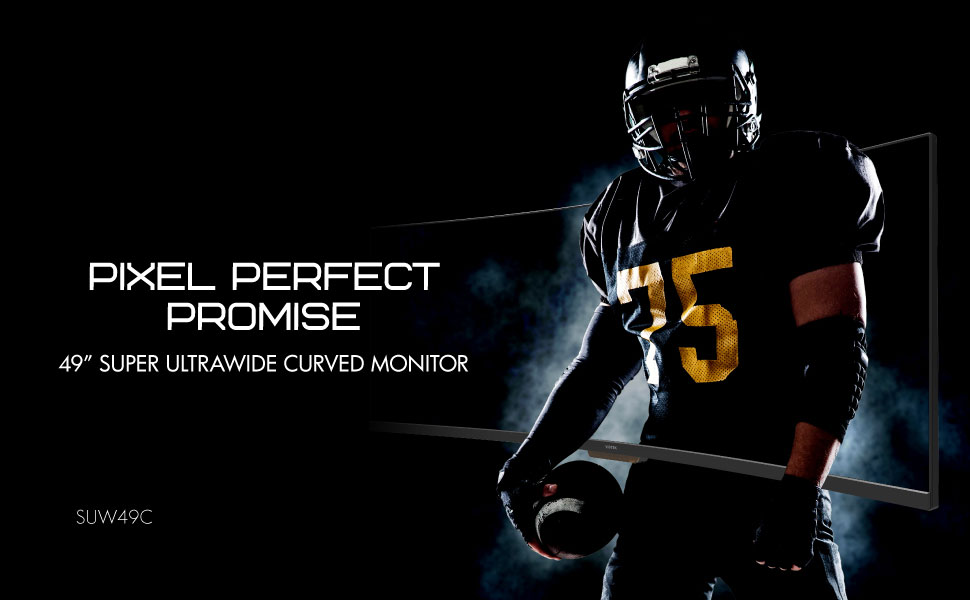 Viotek SUW49CB 49-Inch Super Ultrawide HDR Curved Gaming Monitor — 144Hz, 32:9, 3840x1080P w/ Remote, FreeSync & More
An immersion experience like no other. The SUW49CB makes you feel like you're at the helm of a command center, battle station, or strapped in your very own fighter jet cockpit. The 32:9 display covers nearly your entire field-of-view, as though you have two 25-inch ultrawide gaming monitors side-by-side. With its 1800R curvature, you'll see the totality of the game's landscape and breathtaking background — just as the developer intended. But the SUW49CB is far more than a gaming monitor. Designers, content creators and entrepreneurs can all benefit from the top-of-the-line specs and advanced features that this professional monitor delivers.
Dive Deep into Dynamic Color
The SUW49CB isn't just bigger. It's better. Better than most other ultrawide monitors on the market today. One of the first super ultrawide monitors to fully support High Dynamic Range (HDR), the SUW49CB is built with an industry-leading VA panel. Colors are realistic and the bright HDR elements pop off the screen. This 144Hz monitor is calibrated to deliver 16.7 million colors at 3000:1 contrast ratio, enriched for gaming, watching movies, or working on projects where color accuracy is crucial.


Dual-Monitor Life with a Single Display
Two devices, one massive screen. Any device with HDMI 2.0, HDMI 1.4 or DisplayPort outputs can be connected to the SUW49CB for split-screen viewing. With dual-input PIP/PBP functions, you can stay focused on multiple projects while making use of the extra-large screen. Project managers can easily manage multiple projects with room to spare. And content creators will have more screen real estate to do what they do best: create.
Fluid Gameplay and Pro-Level Features
The blistering 144Hz refresh rate. Tight 6ms response time. Pixel-perfect 16.7 million color reproduction are more than enough for a top-quality gaming experience. But we know you want more — so we're giving you more. This HDR monitor supports AMD's FreeSync™, which smooths out jittery images on motion-demanding games. The result is supremely fluid high-octane games without image distortion and motion blur. And with built-in GamePlus crosshairs, you'll enjoy game-winning accuracy with every shot, on every game.
Grind All Night
Game marathons can be hard on the eyes. But the Viotek Eye Guard can help. This low blue-light mode drastically filters out harmful blue light. Keep eye fatigue at bay without affecting image quality.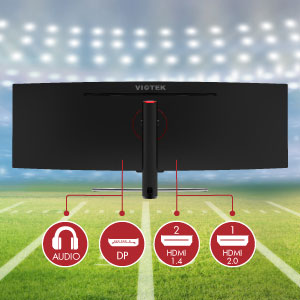 Connect Your Way
Connect the SUW49CB to any peripheral that uses DisplayPort 1.2, 3.5mm audio, or HDMI 2.0 and 1.4 ports. Use the included remote to quickly switch between input modes and more.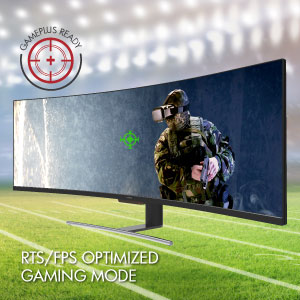 Visualize Perfection
Tailor the display to your content, thanks to the HDR gaming monitor's FPS/RTS optimization. Choose from five other display modes to find the best visual setting for your content.