Description
Viotek GN35DR 35-Inch Ultrawide Curved 2K Gaming Monitor — 144Hz, 21:9 w/ "Rage-Proof" Battle Stand
Don't just beat the game — dominate it. Experience crystal clear picture quality, stunning detail and immaculate color reproduction with the breathtaking Viotek GN35DR 35-inch ultrawide 21:9 curved gaming monitor. Completely surround yourself in the action with the HDMI monitor's natural 1800R curvature, which conforms to the natural curve of the human eye. You're not just watching a movie or playing a game, you're fully immersed it, a part of the action.
Introducing . . . the Battle Stand
Solid. Durable. Battle-Ready. The GN35DR features our most rugged monitor stand ever. Built like a tank, the stand is "rage-proof," with back-weighted springs that ensures the monitor won't move unless you want it to. Bang on the table. Shake the desk. Do your worst. You're locked in with the GN35DR's Battle Stand. Built as solid as it is, the stand still manages to be tilt- and height-adjustable, offering the flexibility to find the most comfortable viewing position possible. Need more flexibility? The GN35DR is also VESA-compatible for wall mounting or attaching to any 75x75mm VESA-compatible mounting stand.
Dual-Input Multitasking
Interact with content from two connected sources on a single unified screen with PIP or PBP functions. Connect a PC and a laptop. Or access a home security camera in PIP mode. Any device with HDMI, DP or DVI ports can be connected to the GN35DR and used with split-screen viewing conveniently controlled by a single mouse and keyboard.
Stay focused on the game and minimize visual distractions. The anti-glare treated VA panel reduces light reflection on the screen without washing out the color. For those extended gaming sessions, activate low blue light mode to filter out even more harmful blue light and keep eye fatigue at bay. More than just eye-candy, the GN35DR is a serious beast with serious specs at a great price point.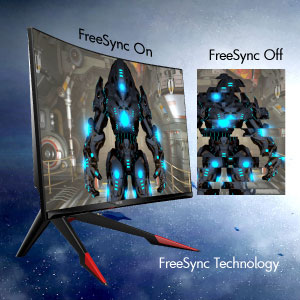 Fluid Graphic Performance
Activate AMD FreeSync™ to dramatically smooth out motion-intense games. Connecting an Xbox One X/S? Turn on Variable Refresh Rate and enjoy experience stutter-free action not possible from most televisions.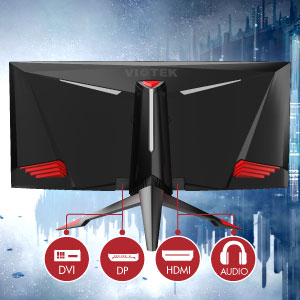 Flexible Connectivity Options
Connect to the devices you need using DVI, HDMI 2.0 or DisplayPort 1.2 ports. A 3.5mm audio jack lets you use the monitor with your favorite headphones and most external sound systems and soundbars.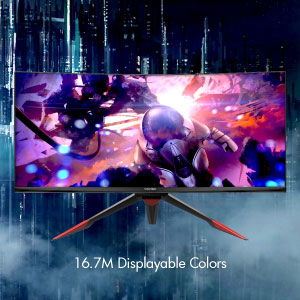 Enhanced Color Reproduction
Experience crystal clear picture quality with stunning detail and wide color gamut. The 1M:1 DCR ensures that images are delivered with bright whites, deep ink-blacks and enriched reds, greens and blues.