Description
VIOTEK 32" LED Monitor: Stunning HD Resolution with Expansive Widescreen
Get a head start on your next school project or jump into the vast world of PC gaming using VIOTEK's ultra-sophisticated H320 32" LED Computer Monitor. It features a slim T-shaped stand with clean lines and comes in a modern white.
After installation, its settings will optimize automatically, so you can surf the net or stream movies within minutes. For those who love to fine-tune their settings, the H320 comes with an on-screen display for quick and painless adjustments.
The H320 is specifically crafted to deliver the color, contrast, and digital HD you've been longing for. With 60Hz, computer gamers can take the first step to mastering RPGs and FPS while college students can tackle their next midterm assignment.
View pixel perfection with VIOTEK's H320 LED Computer Monitor.
Extra Large HD Experience
The ultra-large 32" 16:9 widescreen captures color nuances in stunning HD 1080p and 16.7 million colors for breathtakingly vibrant picture quality. For deep blacks, bright whites, and unbelievably clear images, the H320 features a 20,000:1 DCR. Vintage pictures and old school movies will come back to life on your screen.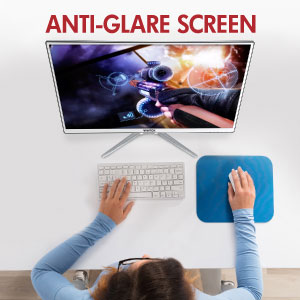 Protect your Eyes
The screen has an anti-glare coat to reduce eyestrain and fatigue, so you can stay plugged in longer! Do homework, complete research, and even grind to the next level.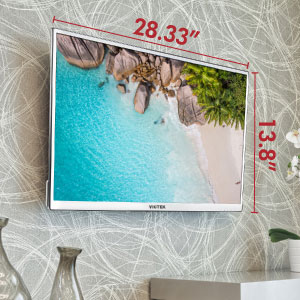 VESA Mount Compatible
With a slim 28.33 x 13.8" frame, the H320 can be placed onto a wall using 100 x 100mm VESA mounts. Simply detach the T-shaped stand from the monitor and use the built-in holes at the back of the screen. You can watch movies and TV shows from across your room!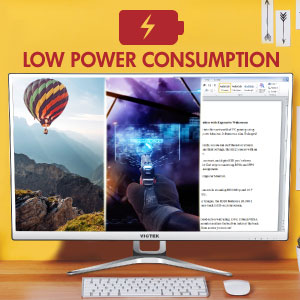 Low Power Consumption
The H320 delivers a mesmerizing digital experience and quality resolution via low power consumption. You'll keep your electricity bills down, help prevent energy waste, and still enjoy the performance a monitor should have.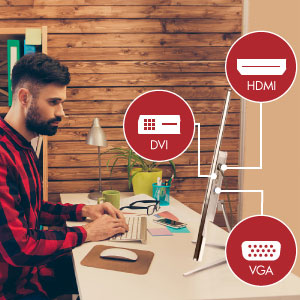 Connectivity Options
To build the setup you want, connect multiple devices to the H320 via VGA, DVI, or HDMI inputs.