Description
VIOTEK LinQ 16″ Portable Monitor with Speakers, FreeSync™ & Full HD Resolution
Imagine the flexibility and freedom of a dual-screen set-up whenever you need it. Imagine a second full-color monitor with 1920x1080p resolution on-demand, in class, on a flight, at work — wherever you go. Imagine a feature-rich IPS display that easily fits in your backpack or carry-on with room to spare. Image the power of a travel-ready 60Hz monitor, built by the leading name in value-rich, performance-packed monitors.
With the Viotek LinQ portable USB-C monitor, you don't need to imagine it — because we built it.
Extend Your Screen — Expand Your World
Inspired by the ever-growing way we work, play and travel. The Viotek LinQ portable monitor offers the flexibility, features and connectivity options you need to stay productive and keep ahead of the curve, even when you're on the go. Easy to use. Lightweight. Travel-ready and feature-heavy.
A Single USB-C Cable Does All The Work
Say "goodbye" to Cord Chaos. In most cases, the LinQ can be fully powered with a single USB-C connection. Thanks to the higher bandwidth of USB 3.0, your connected device will deliver fluid images, flicker-free video, and hyper-lightning-fast 60Hz refresh rate. Concerned about power issues? Don't be. A second USB-C port is always available should you want to connect an external power supply, making the LinQ a perfectly viable option on older, low-powered devices and smartphones.
*IMPORTANT SPECIAL REQUIREMENTS: For single-cable connection through USB-C, the connected device (including smartphones and tablets) absolutely must support DisplayPort Alternate Mode (DP ALT-MODE). If the connected device does not support DP ALT-MODE, then you must also connect an external power supply to the LinQ portable monitor via USB-C. Check with the manufacturer of the connected device to determine compatibility.
A second USB-C connection to an external power supply can alleviate any issues caused by older devices with low power. These problems could include screen "blinks" and low brightness.
If connecting using mini-HDMI, you must also connect the monitor to an external power source using a USB-C port.


Work Smarter — Travel Better — Play Anywhere
Our LinQ offers the simple versatility we need for living our best life and working with enhanced productivity. Photographers can use it as a viewfinder and full-color preview monitor to secure the perfect shot. Developers can have a second screen devoted solely for coding or display helpful wiki pages. Parents can keep their kids happily occupied on long trips with a kid-friendly, game-ready display that's lightweight and easy to use with kid-proof durability that you'll thank us for later. On a long flight with no in-flight movie? Connect your smartphone to the LinQ, plug in your headphones and stay in your own world until the plane lands.
Connected Versatility
No matter your industry or your needs, the LinQ opens up a new world where portability meets productivity. And it does so without adding a lot of bulk. Thanks to its wide compatibility, you'll be able to easily connect with a large array of devices: PC desktops, laptops, Surface books, Chromebooks, game consoles, digital cameras — even smartphones and the Apple® MacBook and MacBook Pro (see Important Special Requirements above).
Simply connect your device with USB-C or HDMI when you're ready to double your productivity and have an extra portable USB-C monitor wherever you go. And all with a compact design and vibrant full-HD display. With multiple connection ports, built-in dual speakers, AMD FreeSync™ & HDR support and more, no other portable monitor delivers on its promise of freedom, flexibility and functionality the way that the Viotek LinQ does.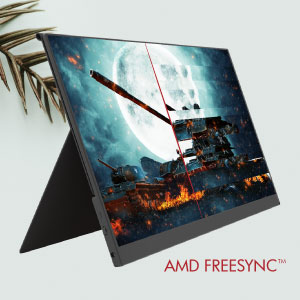 Go-Anywhere Gaming
Connect the LinQ into an Xbox One, PS4 or Switch via the mini-HDMI port. And playback is liquid-smooth, even on motion-heavy games, thanks to AMD FreeSync™.
Dual-Function Flip Cover
The luxury flip cover protects the display from dust and scratches and doubles as a flip stand. Enjoy your movies and shows with a 1920x1080p resolution from virtually any angle.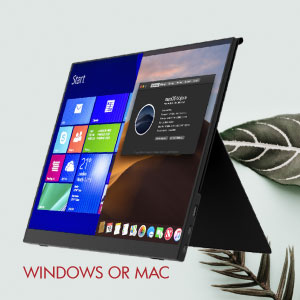 Windows and Mac Ready
The LinQ is ready to connect to a multitude of devices — smartphones, tablets, Windows® PC/laptop or Apple® MacBook or MacBook Pro with no additional software required.