Description
Viotek H270
Experience the best that your computer can offer with the H270 27" Monitor. The H270 is one of the best monitors in the business, and features a bezel less screen for an ultra-sleek and refined look that blurs the line between your screen and reality. This 27 inch computer monitor uses a 1920 x 1080p resolution for an incredibly sharp picture with immersive images and videos that need to be seen to be believed. A tilt adjustment angle of -5° ~ 15° make the monitor work for people of all heights and angles. For office workers or other people who use their monitors in extremely bright settings, the Viotek H270 computer screen uses anti-glare technology to give you an ultra-sharp image no matter where you are. Additionally a 60 Hz refresh rate, 5ms response time, 16:9 wide screen format, and 16.7 million colors make the H270 a force to be reckoned with. With the H270, you can mount your monitor where you want, while 4 preset settings allow you to optimize your HD monitor for whatever task you're working on. Tired of bulky monitors? The H270 weighs a refreshingly light 8.67 lbs without the stand, and 12.33 lbs with. For Viotek PC monitor owners in public settings, the H270 comes with a Kensington lock function that prevents your monitor from being stolen. When it comes to monitors, go with the best, and choose the H270 today.

Anti-Glare and VESA Compatible
See the best of your monitor! With built in anti-glare materials designed to help reduce eye strain, the H270 helps you work even in ultra-bright light! The Viotek widescreen monitor also comes with VESA compatibility, allowing you to easily mount your monitor on a wall. So whether you're working in an ultra-bright office lighting setup, or trying to mount the H270 to a wall in a waiting room, the H270 helps you get the best out of your picture.
4 Preset Settings
4 preset settings optimize your monitor to surf the net, play video games, do work, or just browse.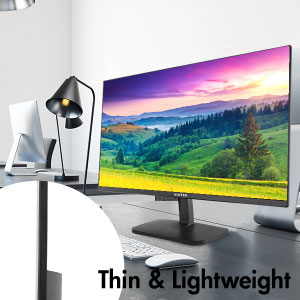 Light Weight and Ultra-Thin
The H270 PC screen is ultra-thin and lightweight, weighing just 12.33 lbs with the included stand.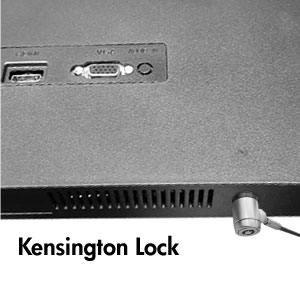 Kensington lock port
For Viotek monitor owners in public settings, the H270 full HD monitor comes with a Kensington lock function that prevents your monitor from being stolen.