Description

Immerse yourself in HD perfection with the VIOTEK H250 25" LED Computer Monitor! Designed with a lightweight and ultra-thin display, this frameless, widescreen monitor transcends the boundaries of visual immersion. Whether you choose to adorn this beauty atop your desk or mantle it on your wall, the H250 completes any multi-monitor setup without taking too much space. The H250 pc screen features 1920x1080p resolution that allows you to enjoy crisp images and a spectacular array of 16.7 million colors on a 16:9 widescreen format. This way, you can enjoy stunning graphics and mesmerizing hues for quality productivity and entertainment. Multiple ports allow you to connect via HDMI or VGA to expand your horizons onto larger screens to create the ultimate rig! Optimize your setup and create without borders with VIOTEK's H250 25" Computer Monitor.


VESA Ready
Effortlessly mount this lightweight desktop monitor on any 75x75mm VESA wall mount or adjust its tilt angle to enjoy the best comfortable viewing experience. No matter how high or low you position it, its anti-glare monitor screen allows you to capture every detail.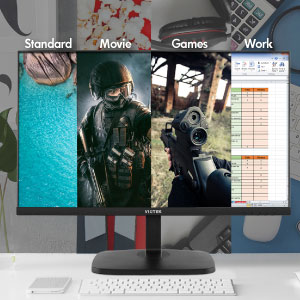 4 Preset Settings
The H250 computer screen is conveniently designed with four preset settings to fulfill your needs within seconds. Simply select your ideal setting and you're ready to stream movies, configure documents, play games, and more!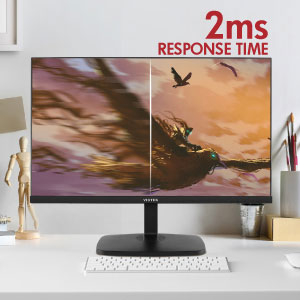 2ms Response Time
Say goodbye to input lag and screen flashing! With a glorious 60Hz refresh rate and 2ms response time via Overdrive, the full HD monitor eliminates visible delays and flickers for you to experience quality graphics without interruption.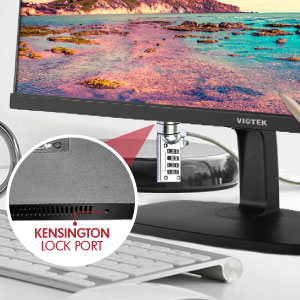 Kensington Lock Port
The H250 computer monitor sets the bar for high security with a built-in Kensington Lock port. Secure your desktop to deter unwanted users from looting your hard work.