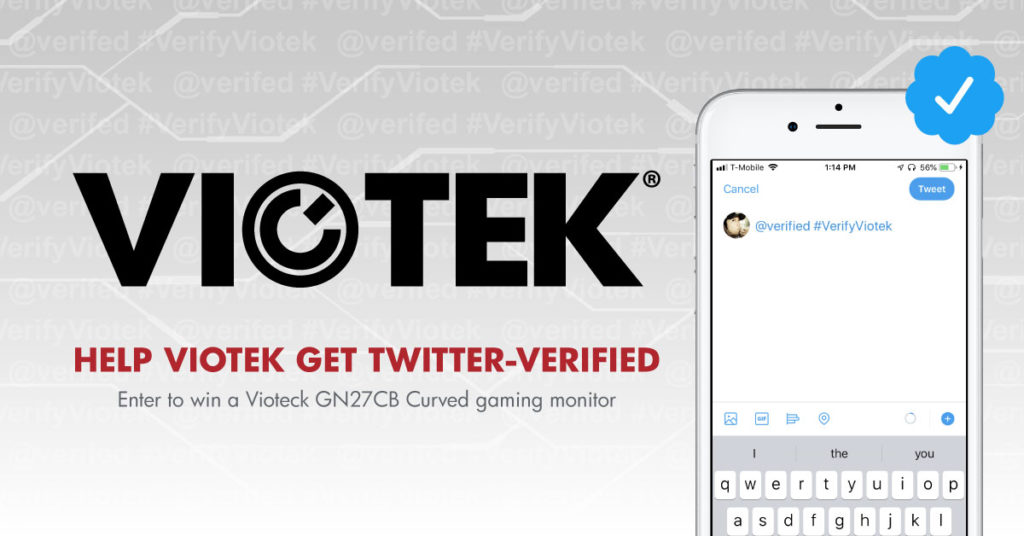 Who am I?
What is my place in the world?
What is "real" anyway?
These are some of the philosophical conundrums that have sparked countless debates, inspired a myriad of Ph.D. dissertations, and helped keep food on the Wachowskis' tables. But answering these questions is a bit beyond our paygrade. So we'll leave that to folks much smarter than us.
But one thing we can do is get Twitter-Verified. That's where you come in!
GET VIOTEK TWITTER-VERIFIED
It used to be a fairly straight-forward process to get Twitter-verified:
Log in to the account
Provide all the info Twitter requires
Submit and wait


And wait


And wait
But recently, Twitter paused their verification process in an effort to streamline the system. That was nearly two years ago.
But according to Mashable, more than 10,000 accounts had been quietly verified in recent months — Twitter CEO jack Dorsey's mom and the '80s band Whitesnake, to name a couple. From that article:
Celebrities, and others with backchannel connections to the company, are able to become verified as Twitter ignores everyday users and those without insider access.

[. . .]

"We have paused public submissions for verification while we focus on a new authentication and verification program," a [Twitter] spokesperson said. "However, our teams around the world continue to work closely with trusted partners to verify select accounts."
The old saying is true: it really is all about who you know.
But rather than whine about it, we're gonna do something about it — and you can help!
ENTER TO WIN A VIOTEK GN27CB CURVED GAMING MONITOR
Verify Viotek Giveaway
Because there is no official way to get our account verified with Twitter, we're going to try an alternative approach, one that involves you guys. And to show that we appreciate your help, we're turning it into a contest — because we absolutely love contests!
Here's how you can help and possibly win!
Log in to your Twitter account.
Tweet Twitter's official @verified account.
Include #VerifyViotek in your tweet.
That's it. We'll tally all the messages and one lucky winner will be randomly selected to win their very own GN27CB gaming monitor!
WHAT'S SO SPECIAL ABOUT THAT BLUE BADGE ANYWAY?
Plenty!
That little blue check next to our name would mean a lot to us because it's means a lot to you — our customers. Whether you're a current customer, returning customer, or prospective customer, that verification mark adds accountability and authenticity to our Twitter posts.
New product announcements. Amazing contests (like this one). Promotions too good to be true.
If you see it from our Twitter-verified account, then you know it couldn't be anything but true.
All this seems to be an awful lot of heavy lifting for a little blue check. But when you think of it, Twitter's user-verification is more like Value Verification. Especially when it comes to celebrities and, yes, even brands.
WHEN KEEPIN' IT REAL GOES WRONG
A verification checkmark is basically Twitter vouching for your identity. It might not endorse what you say or even approve of what you do, but they are saying, "Hey, this account is the real-deal." And being "real" on Twitter is more important than you might think.
On August 9, hackers managed to take over the Twitter account of Team Liquid Fortnite player Jake 'Poach' Brumleve. The hackers went so far as change his Twitter handle completely. That, along with other regrettable actions, caused Poach to lose his verification on the platform.
That same day, a new account was created, @Liquid_Poach, with the following tweet:
This is my new account my old one got hacked :/— Poach (@Liquid_Poach) August 9, 2019


But one of the very first replies brings up an important reality behind that little blue badge:
THIS ISNT POACH ANY HUMAN WITH A BRAIN KNOWS HE WILL WANT TO GET HIS OLD ACCOUNT BACK. DONT FOLLOW HIM— dfucs (@dfucsfn) August 9, 2019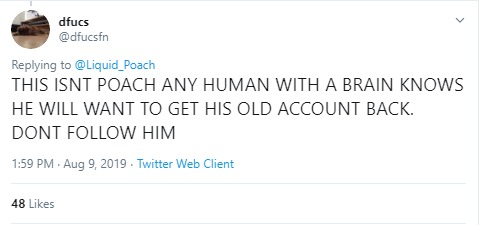 How would anyone know that authenticity of Poach's new account without that official Twitter-verified badge?
And once you have this blue badge of honor, wouldn't you fight to get it back if ever you lost it?
Even if this really is Poach's new account, he faces an uphill battle to gain back the authority lost from his OG account. All because of that missing blue check badge.
Being Twitter-verified has value. It means something to a lot of us. So we hope you join us in our efforts to get our own little blue check mark.
Remember: Log in to your Twitter account and tweet @verified using #VerifyViotek.
(You're next, Instagram!)
ABOUT THE GN27CB GAMING MONITOR
Stay on top of the leaderboards. Play ahead of the curve. Elevate your gameplay with the Viotek GN27CB curved gaming monitor. Enjoy ultra-vivid colors, smooth performance and crisp picture quality from VA panels, precisely engineered for action-heavy games.
Experience flawlessly smooth gameplay on a monitor tricked out at 144Hz. The Samsung VA panels display color accurately, with a 1M:1 DCR and 92% sRGB color gamut. Blacks are deeper. Whites are brighter. Images are enriched with all the details needed for truly immersive games — intense reds and vibrant greens.
The GN27CB is a feature-rich gaming monitor that you don't need to be rich to get.