Every gaming setup deserves high quality gaming monitors. Video games are an immersive and sometimes otherworldly experience, so it's vital that your monitor is capable of the best color, frame rate, and resolution possible.
Even though monitors can be pricey, they're worth the investment in the long run. For less than $500, you can get a quality 4K monitor that's perfect for all your gaming and computing needs. And don't worry if gaming isn't your thing—they always work great for productivity as well as watching movies and TV shows.
So what is the best gaming monitor in 2022? We're going to cover that in-detail in this blog post.
What is a Gaming Monitor?
Gaming monitors are a type of digital display that is specially designed to enhance gamers' experience. They are designed to display fast-paced action in games such as first-person shooters and racing games. They also have a faster response time and more frames per second than traditional monitors.
Typically, gaming monitors have a higher screen resolution than a standard computer monitor. They also have faster refresh rates to reduce motion blur and make gameplay more fluid.
The most important thing, however, is the ability to display colors more accurately, which is why they have a wider color gamut than standard monitors.
What are the Best Specifications to Look For in a Gaming Monitor?
Choosing a gaming monitor is not an easy task. There are many specifications to look at and it's hard to know which ones are important and which ones aren't. The best gaming monitor is one that provides the best viewing experience for gamers. It should be able to render high-quality graphics without any lag or frame-dropping.
The first thing you should do is figure out what your budget is and what features you need in your monitor. If you only have $200 to spend, you can probably get by with an entry-level monitor. If you have more money to spend, you will have more options available to choose from.
The second thing to take into account before purchasing a gaming monitor is the color gamut. Most monitors are about 100% sRGB and about 72% AdobeRGB. This means that if your favorite colors are in the middle of the CMYK gamut, you will only see about 72% of those colors on your monitor at 100%.
A lot of monitors (particularly IPS screens) have an anti-glare coating that is meant to reduce glare from external light sources. This can be problematic when trying to view something outside in broad daylight.
Finally, the number of frames per second is a good indicator of how well a monitor can handle graphics rendering. The higher the number, the better the performance will be. Monitors with a higher frame rate also look smoother.
The refresh rate is the number of times per second a monitor updates the screen image. The higher the refresh rate, the smoother and less laggy it will be. Monitors with a higher refresh rate also look smoother and more responsive. These two factors are usually expressed in Hertz (Hz), which is equivalent to cycles per second.
What are the Different Types of Gaming Monitors?
There are mainly two types of gaming monitors: computer monitors and TV-based monitors. Computer-based displays can be either LCD or LED, while TV-based displays can be either OLED or LED.
Computer monitors are generally cheaper than TV-based displays, but they don't provide the same experience because they have a lower refresh rate and response time.
How to Choose the Right Monitor for Your Gaming Needs
When you are looking for a new gaming monitor, it is important to take the needs of your gaming style and budget into account. Are you a gamer that plays racing or first-person shooters, or are you a gamer that plays slower, free roaming games?
These are important for a couple of reasons:
Price: The higher the frame rate and resolution, the more the monitor will cost.
Frame rate: FPS games often run smoother and better on screens with a higher frame rate. However, a high frame rate isn't necessary for free roaming games.
Monitor size: The size of the monitor will determine how much "real estate" you have to play with during your gaming session. If you are looking for a large screen, then go with either 27-inch or larger model. These monitors offer bigger screens so you can see more detail in the game world or work on multiple windows at once. If you have a small desk, then it might be better to go with a smaller monitor, like a 24-inch model.
If you want a really big screen, then it might be better to go with a high-end gaming monitor like the VIOTEK GNV34DBE or GNV32DBE.
Best 34-Inch Gaming Monitors: VIOTEK GNV34DBE 34-Inch Curved Gaming Monitor Specs
VIOTEK's GNV34DBE monitor is one of our flagship models for gaming and productivity. It also received the Editor's Choice award from Tom's Hardware. In addition to a super high refresh rate, its display is everything ultra. Ultra-sharp, ultra-precise, and ultra-wide.
This monitor is also perfect for productivity. Video editors, graphic designers, and other creative professionals will find this monitor to be ideal for their setup, as it features a high resolution, 144Hz refresh rate, and an ultra-wide 21:9 screen.
3440 × 1440p monitor resolution with 3000:1 contrast ratio
144Hz monitor refresh rates for flicker-free video transitions
Ultra-wide 21:9 monitor with deep 1500R curvature
2 upgraded DisplayPort 1.4
2 HDMI 2.0 ports
AMD FreeSync with LFC and G-SYNC compatibility
Best 32-Inch Gaming Monitors: VIOTEK GNV32DBE 32-Inch Curved Gaming Monitor Specs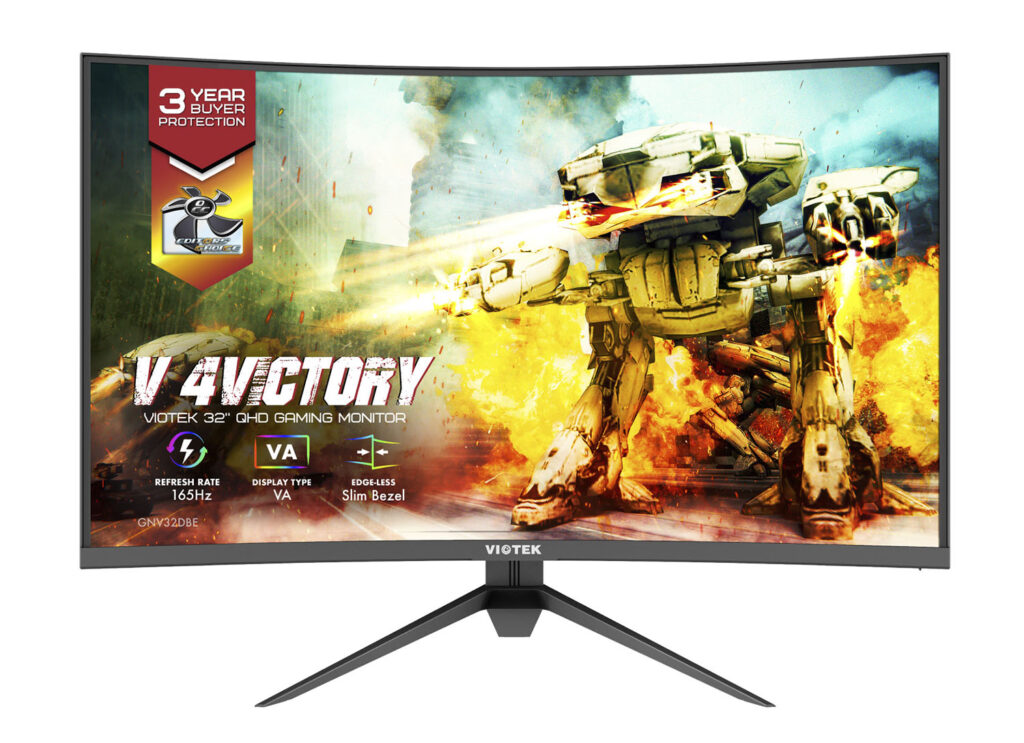 VIOTEK's GNV32DBE monitor is an elite gaming monitor with a turbocharged 165Hz monitor and 5ms response for low input lag. It is built from the ground up to be a game-winning monitor with the best customer support in the gaming monitor niche.
Tom's Hardware said this about VIOTEK's GNV32DBE: "VIOTEK is going for maximum value but has not skimped on performance. There aren't any bells and whistles, but the GNV32DBE has it where it counts."
2K resolution with 5,000:1 Native Contrast Ratio with DLC and 6 customizable viewing modes
Large color gamut covering 87% of DCI-P3 and 120% sRGB
DisplayPort 1.2
HDMI 2.0 port
3.5mm audio jack
VESA mounting
Conclusion
With so many gaming monitors available, it's difficult to sort through them all and find one that will work for your setup and budget. For those with a larger budget and need for a really high-performance monitor, the GNV34DBE will work perfectly.
If you're looking for a slightly smaller yet equally as powerful screen, then the GNV32DBE is a superb option.
Either way, VIOTEK is a great option and you won't be disappointed post purchase. Should an issue arise due to our world-class customer support available through live-chat, email, and phone, and our Zero-Tolerance Dead Pixel Policy. #V4VICTORY
Sincerely,
The VIOTEK Team