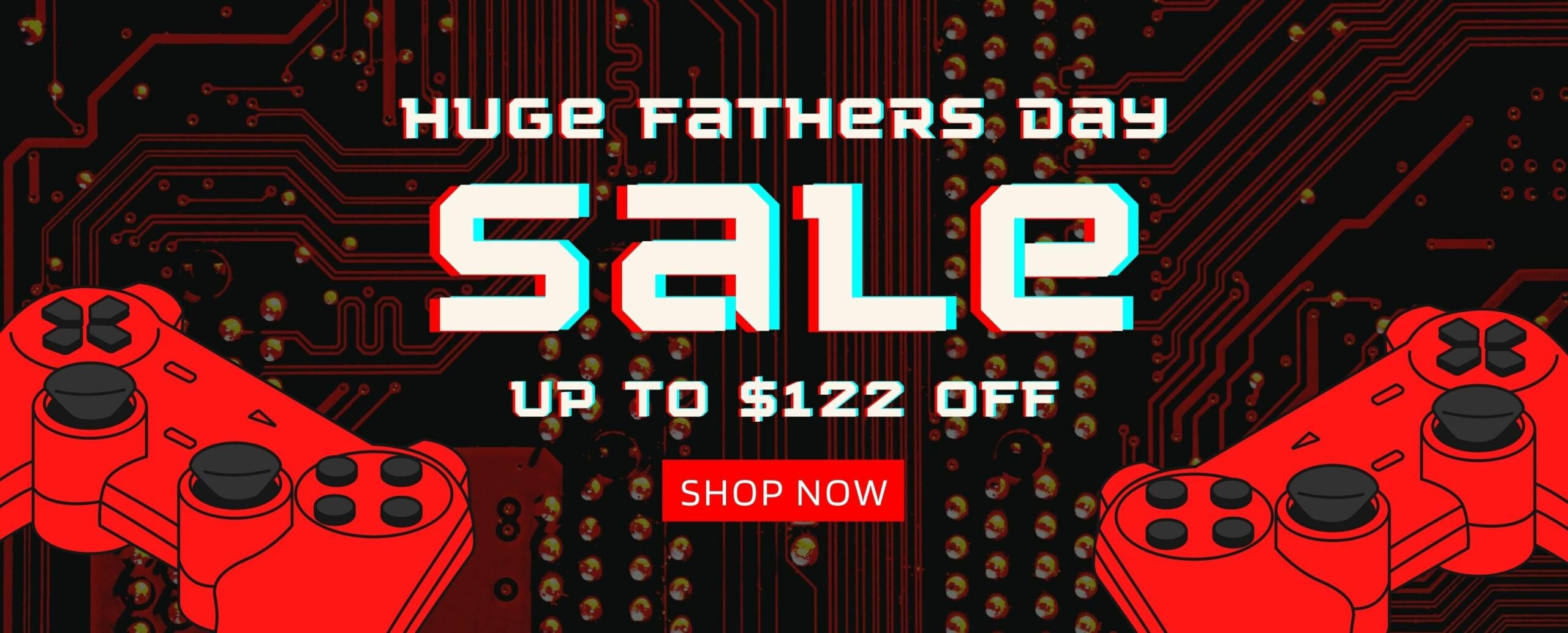 Do you have a Gamer Dad?  Finding the perfect gift for gamers is as hard as a final boss battle. While you can't go wrong with a new headset, keyboard, or mouse, you may want to up the "WOW!" factor this year.  A new gaming monitor is just the ticket.  Whether he's a hardcore gamer or a casual player, we've collected a range of Father's Day gift ideas for the coolest dads in the world—the gamer dads.
Show Dad how much you love and appreciate him by getting him some new gear for his man cave.  Whether he's a PC or console gamer, VIOTEK gaming monitors are a huge upgrade. While big 4K smart TVs are built to deliver Netflix and Blu-Ray at premium quality, they lack the high-end features needed for video games.  Gamer Dads aren't playing games as much as they'd like now that they're dads. So wringing out every ounce of enjoyment and performance is key.
Gaming monitors offer fast response times so there's minimal delay between what Dad sees on the screen and how fast he can react with the controller. This is especially important for competitive and online games, but also makes a huge difference for casual gamers too.  High refresh rate monitors offer a smooth range of motion, especially for PC games.  A high refresh rate screen will make a world of difference in his everyday play.
The Best UltraWide Curved Gaming Monitor – VIOTEK GNV34DB2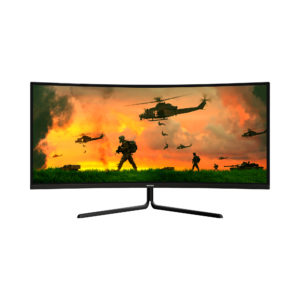 The VIOTEK GNV34DB2 is a 34 inch ultra-wide display with a resolution of 3440 x 1440p — more than twice the pixel density of full-HD monitors. It delivers vibrant images, rich with color, and a 3,000,000:1 dynamic contrast ratio for deep, inky blacks and brilliant whites. Its lightning-fast 100Hz refresh rate produces flicker-free video with virtually zero dropped frames.
The deep 1500R curved screen wraps around dad's field of vision to put him right at the heart of the action. Gamers need a broad a view of the battlefield while also ensuring a comfortable experience during those long hours in front of a screen.  Flat screen monitors cause distortion to images at the edges of the display and increased eye fatigue due to constantly glancing across the screen.  And the curve gives better depth perception for full immersion in the expansive game world.
The GNV34DB2 is packed with other advanced features for an incredible gaming experience. Activate AMD FreeSync and enjoy smooth PC gameplay with significant reduction to image distortion (stuttering, tearing, ghosting) during motion-heavy games. The Viotek Gaming Suite includes GAMEPLUS crosshairs to enhance aim, turning every shot into a bullseye. The FPS/RTS optimizations bring out extra detail in darker images: see snipers hiding in shadows before they get the drop.
An all-in-one solution, Dad won't have to worry about swapping cables to connect to another PC, Xbox, or PS5.  The 21:9 ultra-wide display has three HDMI and a DisplayPort input that you can change at the push of a button. The monitor's 3.5mm jack easily passes audio to a soundbar, speakers, or a home theater. It even supports three-input picture-in-picture (PIP) and picture-by-picture (PBP), too!
The Best Pro Level Gaming Monitor – VIOTEK GFI24CBA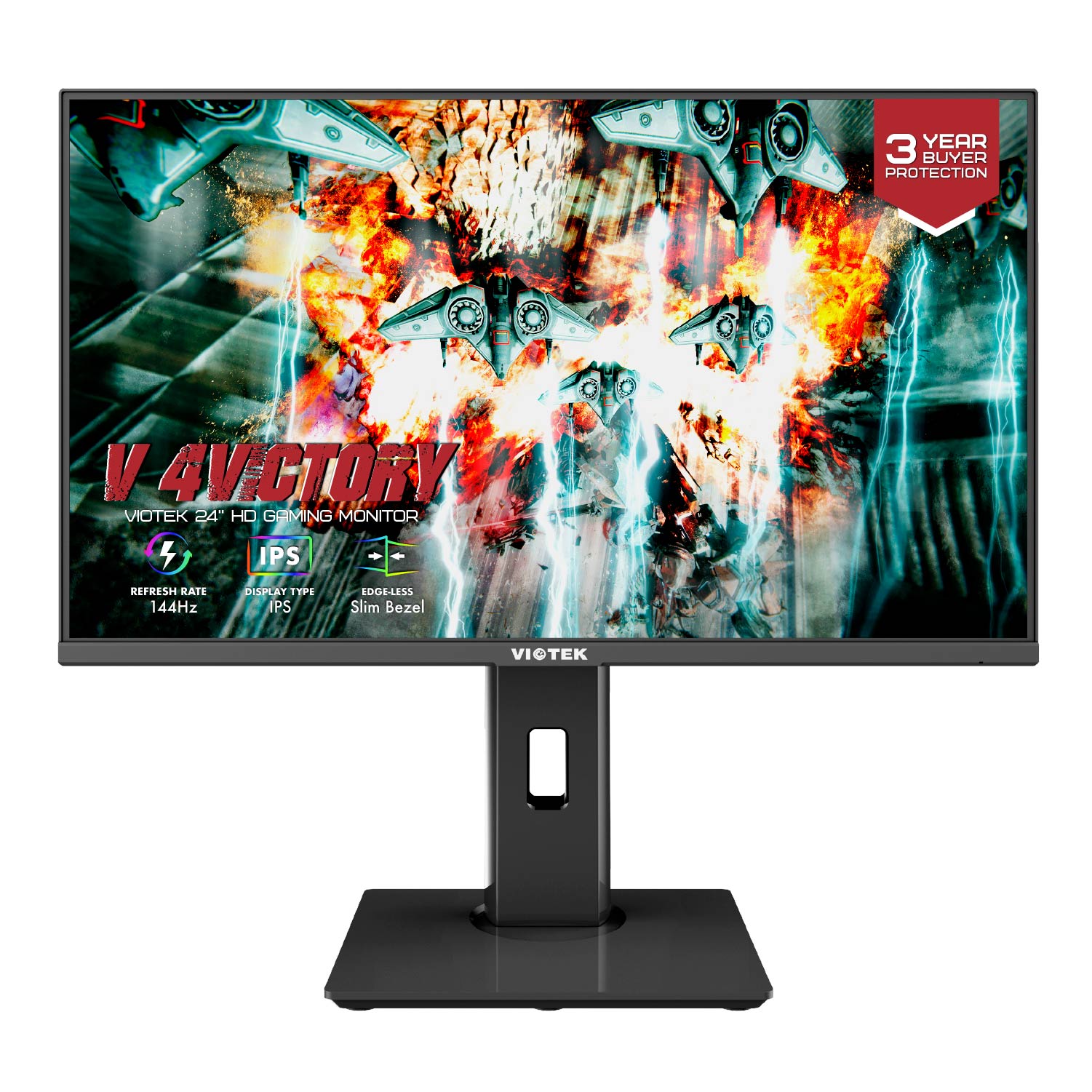 The VIOTEK GFI24CBA is a 24" flat screen display that's precisely engineered for pro-level performance.  The IPS panel provides color-rich images, flicker-free video, and rapid-fire response time. The colors are stunningly accurate, with the wide 98% sRGB color gamut showcasing every detail. The one-million-to-1 dynamic contrast ratio means that blacks are deep, whites are bright, and RGBs are rich and vivid.
The 144Hz monitor refresh rate delivers all the action flawlessly smooth. MPRT (Moving Picture Response Time) mode is a technology to reduce motion blur. MPRT turns pixels on and off in the blink of an eye.  Fast motion feels smother and more realistic, removing artifacts like motion blur and ghosting.  Whether dad is a fan of FPS shooters, MMORPGs, or RTS strategy games, he'll love the flicker-free, lag-free gameplay.
When you want to play against the best players, you need the best gaming suite.  Increase accuracy with GAMEPLUS targeting crosshairs. Activate FPS/RTS display optimization and bring out extra detail in darker, shadow-heavy games.  See enemies before they snipe away.
Packed with impressive gamer-centric features, VIOTEK GFI24CBA hits the sweet spot for hardcore gamers.  It features HDMI 1.4, HDMI 2.0, and DP 1.2 ports, and supports 1080p Xbox and PS5 gaming at a full 120hz.  The fully adjustable 4D stand lets Dad change the height, tilt, swivel, and pivot the monitor to find the perfect viewing angle.  And it's supported by a 3-Year Limited Warranty and best-in-market Pixel Perfect Promise.
The Best Entry Level QHD Gaming Monitor – VIOTEK NFI24DBA
Looking for a great entry-level gaming monitor on a budget?  Then the 24 inch VIOTEK NFI24DBA is the best option around.  New 2K 2560 x 1440p monitors are an extremely popular for casual gaming. They have a low enough resolution for great performance without an extremely expensive gaming computer or next-gen game console, yet a high enough resolution to show off fine details. The true-to-life 123% sRGB gamut is fantastic for video and games. Peak brightness and black levels pop with a 1,000,000:1 Dynamic Contrast Ratio and 7 customizable viewing modes.
Dad will enjoy stunning, life-like color accuracy at 75hz refresh rates. Multiple ports connect to a wide array of compatible devices via USB 3.0, HDMI, or DisplayPort. Use it with a gaming PC, connect a second monitor to a notebook, hook up a game console, and more.  Easily add a soundbar or headset to turn a small space into a multimedia powerhouse.
The rapid-fire 5ms GTG response time eliminates input lag and video flicker. Adaptive Sync eliminates jitters and distracting visual glitches that pull dad out of the game. Integrated GAMEPLUS brings back OSD targeting crosshairs for improved aim. And FPS/RTS optimization delivers added detail to darker colors.
The NFI24DBA is protected by a three-year limited warranty, backed by a U.S. company. We're so sure of every monitor's quality that if you see a single dead pixel, we'll give you a replacement.
Conclusion
Put a huge smile on Dad's face with a gift he never would have expected. Gamer Dads are awesome and deserve an equally epic Father's Day present.  But if these gaming monitors don't fit your exact needs, we still have you covered.
Check out our other hot sellers to find the perfect monitor this Father's Day.  This week we're also featuring deals on 144Hz gaming monitors, curved monitors, and 34 to 49 inch monitors.
And of course, if you have any questions, please feel free to reach out to our support team via live chat.  Happy gaming!
Sincerely,
The VIOTEK Team