Curved screens have come a long way!
They can be seen on nearly every type of consumer product imaginable — from smartphones and 360-cameras, to TVs and computer monitors. While they have received more scorn than praise on phones and TVs, the implementation on pc monitors is a different story.
Curved phones, such as the LG G Flex, have been called "ugly." Curved TVs have been accused of noticeably increasing reflections. But curved screens actually make perfect sense on monitors because they are able to provide an immersive experience without causing distortions or reflections.

Curved monitors are intended for just one person featuring a design philosophy of creating a wraparound experience for that particular user. Whether the screen is industry standard 16:9 ratio, or the ultrawide 21:9, its curvature enables the user to see all the content on it from the same distance at a normal seat position in front of the monitor. Because of this uniform viewing experience, it is easier to take full advantage of a higher field of view (FOV), for both gaming and productivity uses.

In fact, in most cases, curved monitors provide a more natural sense of the user's environment than flat panel monitors. Example: In the hottest Battle Royale game Fortnite, if an enemy quietly appears at the left bottom of the edge of your monitor, it might be hard to spot him or her on a flat panel. That's because your eyes are naturally focused at the center of the screen. With a curved monitor, however, the whole screen is in your eyes from the same distance so that even a tiny movement on the map is easy to spot. Another perfect scenario would be an extended excel reporting sheet: the curved uniform viewing experience is going to help you focus and thus see more columns and rows concurrently.
Now that the user experience is covered, here is another advantage of curved monitors, which all monitor buyers should have a basic understanding before buying, the specs. Usually curved monitors use VA (Vertical Alignment) or IPS (In Plane Switch) panel screens, which means they have great viewing angle, color accuracy, and contrast ratio.
If you're also looking for great design aesthetics, then look no further than all of the Viotek curved monitors on this very site!
The Value of the Curve
So curved monitors are amazing in almost every aspect. But are they worth it? Should you buy one or two?
If this was 2016 or even early 2017, the answer might be, "No." Back then, even monitors with a very slight curvature (3800R) could cost anywhere from $50 to $200 more than a flat-panel monitor with the same specs.
But right now, in 2018, the answer is a resounding YES!
The market and technology has changed and advanced. And this has brought the price of curved monitors down significantly.
At Viotek, we build our curved monitors using high-quality Samsung VA panels and use a more aggressive 1800R curvature for even better immersion. All at prices you can afford. And they are backed by our 1-year manufacturer warranty and fantastic customer service!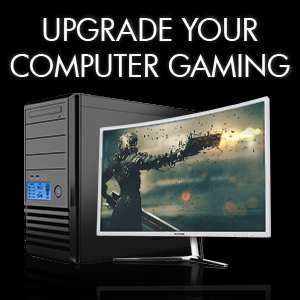 The Best Curved Viotek Monitors
Our 27-inch Viotek NB27C is beautifully designed with a white frame and chrome electroplated stand. It has picture quality, multiple rig connections, and an anti-glare screen. It current retails for only $179.99 and has received countless appraisals from reviewers and our customers.
Recently, we've released two new monitors: the 24-inch Full HD 1080p Viotek GN24C and the 27-inch Quad HD Viotek GN27D. Both monitors feature 144Hz refresh rate and AMD Freesync technology, making them perfect for competitive gaming. They both have the sleek matte black design and gaming enhancement features, such as built in crosshairs. Priced at $219.99 and $369.99 respectively, these high-end gaming monitors are far more accessible than other monitors with similar — or even less — specse.

Last but not least, we present you the gorgeous ultrawide 21:9 WQHD 3440X1440 resolution Viotek GN34C. Its enormous 34-inch is perfect for everything you do on it, including but not limited to gaming, multitasking, and media consumption. It also features 100Hz refresh rate and AMD Freesync technology to provide a truly immersive experience. While brands like Dell and Asus price their 34-inch ultrawides at $700 and above, our GN34C is priced at just $529.99.
Want to live that ultrawide life? Look no further!