Think Computers, a trusted source in technology reviews since 2001, has given Viotek's GN27D 27-inch Curved Gaming Monitor 9 out of 10 in their latest review!
At Viotek, we strive to produce affordable high-quality consumer electronics that focuses on well-designed, innovative products. We're particularly proud of our growing line of highly rated and reviewed pc monitors and game monitors.
Which is why we're pretty stoked about ThinkComputer.org's review of our latest curved gaming monitor, the Viotek GN27D Curved 27-Inch Gaming Monitor!
About ThinkComputers
Based out of Pittsburg, ThinkComputers has been a comprehensive electronics, hardware, and gadget site since 2001. Their years of computer experience has given them a keen eye for technology which they use when reviewing new products related.
To date, they've reviewed upwards of 1,000 products — including our newest 27-inch offering for their gaming monitor reviews.
Veteran blogger and tech reviewer Bob Buskirk immersed himself in out 27-inch curved gaming monitor for three weeks. Here's his take on the GN27D, which he says is "one of the most affordable 27-inch 1440p 144Hz curved display out there."
What else did he have to say about the GN27D?
The Specs Gamers Want
Designed with gamers in mind, the GN27D features a stunning QHD display with an attention to detail that wasn't lost on Buskirk:
"Well this being our second panel from Viotek we can say we are impressed. This company [. . .] are releasing panels with all of the important specifications you want without all of unneeded extras that other more expensive panels have. What's even better is that these panels are good! They also exhibited great performance in games.
Talking about all of the specifications you want this is a 27-inch VA panel that offers a 1440p (2560 x 1440) resolution, 144 Hz refresh rate, and FreeSync."
When discussing the display's performance:
"Gaming on a panel this size almost seems perfect. Also if you have been gaming on a 60 Hz display moving up to 144 Hz is definitely a treat.

Also 27-inches at 1440p is still large enough to have two windows open side-by-side and not have things seem cramped. Ever since using a ultra-wide I worked this way and it is nice to know I can still do it on this display."
Buskirk discovered, much to his pleasure, that massively graphic-intensive games were not a problem for the GN27D:
"In the past few weeks I've been playing a lot of Fortnite, Star Wars Battlefront II, and DOOM. Since the GN27D came with the proper DisplayPort cable to achieve the 144 Hz refresh rate that is what we played games at, and it is sure a treat. 1440p at 144 Hz is smooth and fluid, there was not any noticeable screen tearing or ghosting. Everything looked just great!"
"The monitor has different modes including Game, FPS, RTS, Standard, Text, and Movie. I personally preferred Movie for most things, including gaming. If you do have an AMD graphics card you can enable Freesync on the display."
The 27-Inch 'Sweet Spot'
Buskirk previously reviewed our GN32Q game monitor. While his final rating was great (another 9/10), he voiced a sentiment on his GN32Q podcast review that we knew many other avid gamers shared. It was one that he also mentioned on his GN27D review:
"While 32-inches is a good size, it seems most serious gamers feel a 27-inch or 24-inch display is really the sweet spot as you really don't have to move your head around at all the view the entire screen. [. . . T]he GN27D definitely looks more like a gaming display with its all black design and slim stand."
Does the smaller real estate mean you'll feel cramped and claustrophobic? Not with the way we've designed the GN27D.With its 1800R curved screen, games will be as immersive as possible. Multitasking is a breeze with its built-in PIP and PBP functions.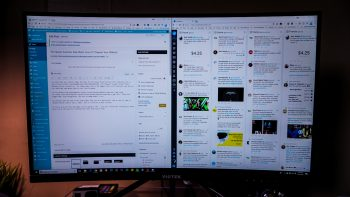 "Even though this is a smaller panel than Viotek's GN32Q, which I was using previously (27in vs 32in) I am still able to have two windows open side-by-side without it feeling mushed together. This of course is ideal for being productive and multi-tasking. The display is also large enough that working in Adobe Premiere does not seem cramped."
Clean Design with VESA Capabilities
Buskirk's reviews aren't limited to rattling off specs. Just as he did with his GN32Q review, Bob's keen observations took note to another one of our design decisions:
"You'll notice that there are no VESA holes on this display, there are actually, but you'll need to remove the stand to see them. So if you were planning on mounting this display on an arm you are good to go."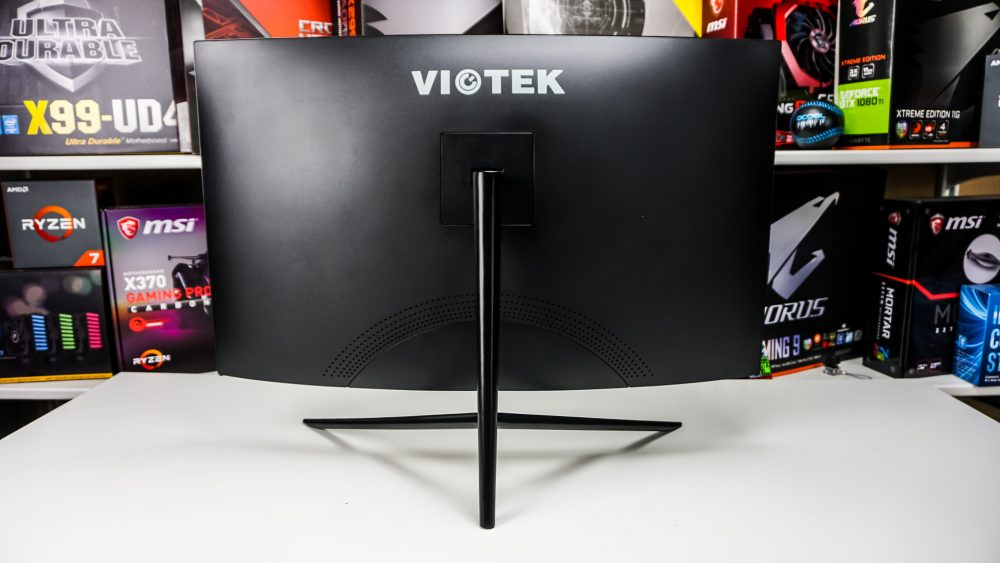 Easy to Setup, Customize, and Manage
The menu system in any monitor is often overlooked, by producers and consumers alike. Not with Viotek monitors!
We believe in having quick and easy access to the monitor's control, with a menu design that is simply designed yet executed elegantly.
"Hitting the "M" button brings up a small menu, which gives you your different options. Hitting the "M" button again will bring up the menu, the down arrow will cycle through the different display modes we listed previously [. . .].

Inside the menu you can do things like switch the input, change the brightness / contrast, color setting, picture quality, display, audio, multi-window, and more."
Final Thoughts from ThinkComputer
Ultimately, it's our goal to continually push the boundaries of what an affordable, "budget" gaming monitor can offer. This means producing with monitors that satisfy spec-hungry gamers while still delivering well thought-out designs and a solid builds.
But what was ThinkComputer's final rating for the GN27D?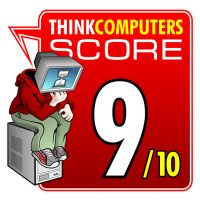 "If you are a person looking for pure performance and can deal without some of the extras this is going to be a great display for you. Overall ThinkComputers gives the Viotek GN27D 27-inch Curved 1440p 144Hz Monitor a 9 out of 10 score."
You can read ThinkComputer's full review of the GN27D here: Viotek GN27D 27-inch Curved 1440p 144Hz Monitor Review.
Love Podcasts? You can hear Buskirk's review on ThinkComputer Podcast #137. Discussion starts at the 01:50-minute mark.
Additionally, you can check out their review of the GN32Q here, reproduced on our site with their permission.
You can also listen to ThinkComputer Podcast episode #133 for their GN32Q review, starting at the 11:45-minute mark.
— The Specs You Deserve. The Price You'll Love.
---