The tech gurus at ThinkComputers.org spent one month with a Viotek GN32Q Curved Gaming Monitor and rated it 9 out of 10 in their latest review!
Maybe you're looking for the best gaming monitor on the market. Perhaps you want a gaming monitor that delivers top specs with a quality build, but you have budgetary constraints.
At Viotek, we pride ourselves in our commitment to delivering affordable electronics without skimping on quality. This is no more evident that with our ever-growing line of affordable gaming monitors.
This is why we're beyond happy that the fine folks at ThinkComputers.org gave our GN32Q 32-inch curved gaming monitor a golden review!
About ThinkComputers.org
ThinkComputers.org is based out of Pittsburgh, PA. They have excelled at being a comprehensive electronics, hardware, and gadget site since 2001. With years of computer experience, they've developed a keen eye for reviewing new technology products.
To date, they've reviewed more than 1,000 products, including their gaming monitor reviews.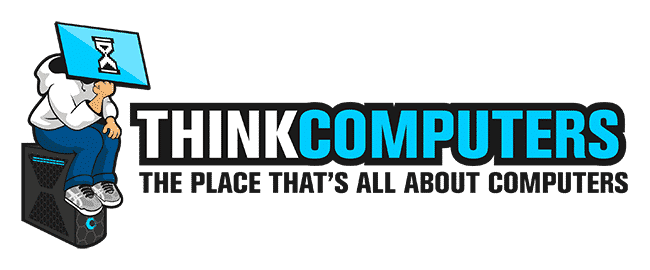 Veteran blogger and tech reviewer Bob Buskirk immersed himself in our 32-inch curved gaming monitor for three weeks. Here's his take on the GN32Q:
Build and Design
At Viotek, when it comes to designing the best products, we're not above taking risks.
"Taking a first look at the display itself the first thing that I was really surprised about was that it is not really designed like a gaming monitor. Most of Viotek's other displays have a black and red design, but instead we have an all gold design, which I actually like quite a bit.

[. . .]

The 1440p (2560 x 1440) resolution is great to work in. I am able to have two windows open at once side by side. This is actually great when I am writing on the site and I can have my social media open in the other window. When it comes to Adobe Premier the display gives you a lot of room to work with."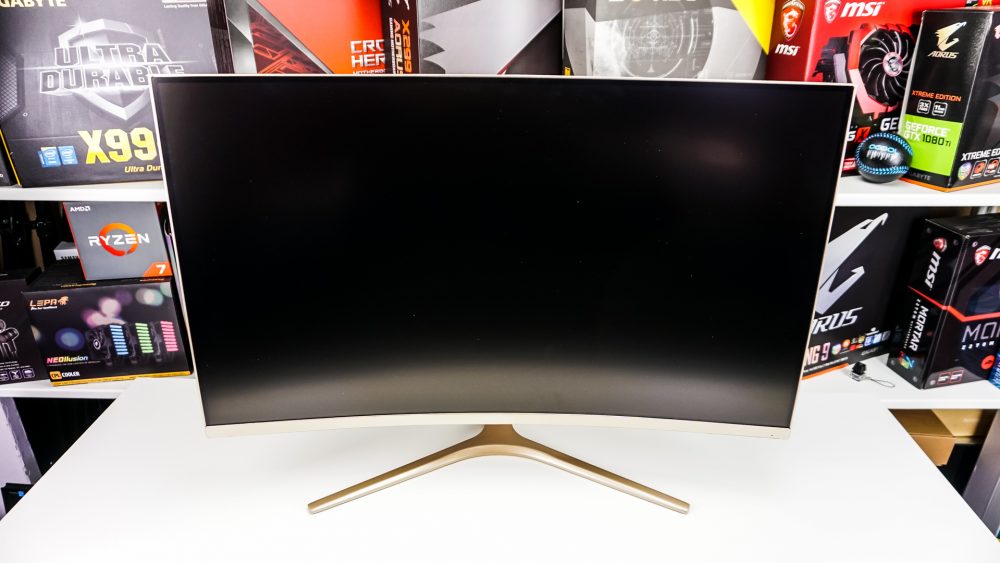 "The craftsmanship of the monitor is really good and the gold design is something you are either going to love or hate, we think it looks pretty awesome. The Borderless design of the bezels is a nice plus and there was no bleeding around the corners of the display at all."
To really push the boundaries of an ultra-thin, bezel-less monitor, we opted for a 'bottom-heavy' approach. The unique stand design would give the best support possible while maintaining an interesting look, pleasing to the eye.
"If we take a look at the display from the side we can see just how thin it is. Viotek has housed most of the components in the bottom part of the display so it is thicker there. The stand itself is not all that large, the entire setup is only 8-inches in depth (stand + display). The stand offers a slight tilt adjustment, but nothing more. So you have no height or rotation adjustment."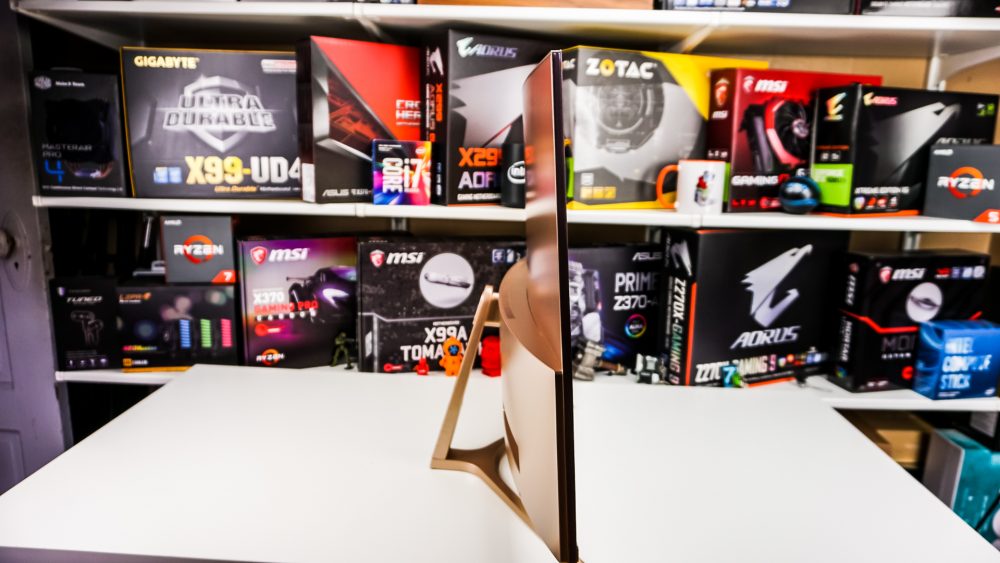 "The display has a nice curve on it, not that most dramatic curve we've seen though. The curve definitely helps you see more of the screen better and immerses you in your game or application."
Performance
So the GN32Q looks pretty — and that was one of our goals. But in the end, the GN32Q is a gaming monitor, one that has to perform! How did the GN32Q stack up to ThinkComputers' expectations?
"I have been using the GN32Q for just over three weeks now and I haven't run into any issues as far as dead pixels or anything like that. As a reminder this is a 32-inch curved VA panel with a 1440p (2560 x 1440) resolution, 144 Hz refresh rate, and a 1ms response time."

"Now of course one of the most important things with this display is gaming performance. I played quite a few games including Battlefield 1, Fortnite, Star Wars Battlefront II, and DOOM at both 60 Hz (HDMI) and 144 Hz (DisplayPort)."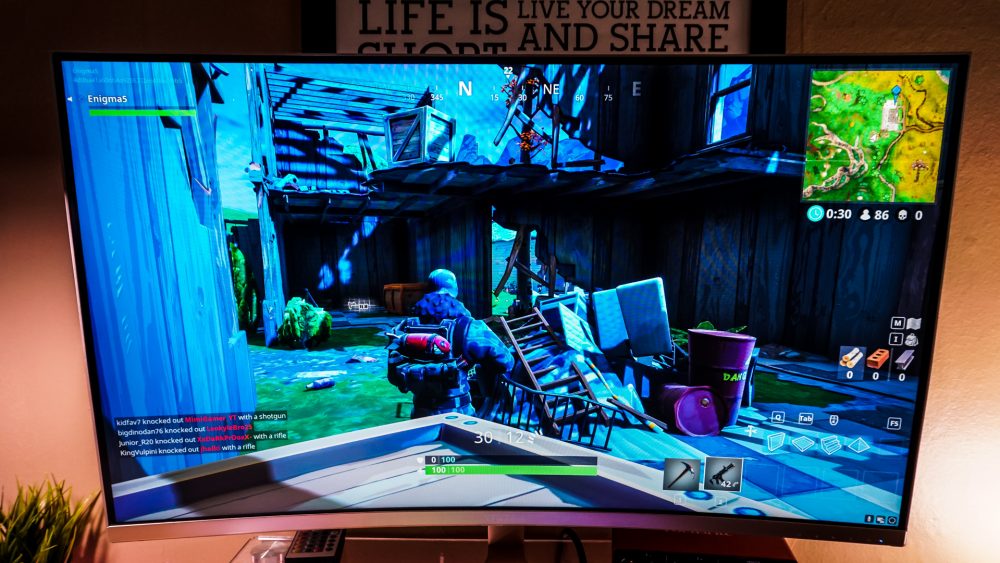 "Now [. . .] moving from 60 Hz to 144 Hz really made the gameplay much more smooth. This display does offer Freesync so if you do have an AMD card you can enable it to match the FPS to the refresh rate of the monitor for super smooth gaming."
Ease of Use
Almost as important as a monitor's ability to handle intense gameplay (and look good doing it!) is the ease in which you can access important settings. Viotek left nothing to chance! Instead, we designed a menu system that lets you quickly and easily tweak to your heart's content. A fact that was not lost in this review:
"The menu system on the GN32Q is pretty easy to operate. You have options to change the mode, color temperature, aspect ratio, input, screen position and more. The different modes offered are standard, movie, FPS, RTS, and EyeSaver."
Final Thoughts from ThinkComputers
Ultimately, it's our goal to continually push the boundaries of what an affordable, "budget" gaming monitor can offer. This means producing with monitors that satisfy spec-hungry gamers while still delivering well thought-out designs and a solid builds.
But what was ThinkComputers' final rating for the GN32Q?
"I think many consumers can be worried about buying a display from a company that is relatively unheard of. The first thing that comes to mind are stories of displays that head dead pixels, screen bleeding, etc right off the bat.

[. . .]

Our display arrived with no dead pixels or screen bleeding, and we've had it up a running for almost a month now and there haven't been any issues at all.

This display really ticks all of the boxes when it comes to a gaming monitor. You have a 32-inch curved panel with a 1440p resolution, 144 Hz refresh rate, 1ms response time, and Freesync compatibility. Gaming on this display is awesome, and the larger 32-inch curved display really immerses you in the game that you are playing. 144 Hz makes games buttery smooth and once you start gaming in 144 Hz you are not going to want to go back.

At the end of the day you are getting a pretty awesome 32-inch curved 1440p 144 hz display at a great price. Overall ThinkComputers gives the Viotek GN32Q 32-inch Curved 1440p 144Hz Monitor a 9 out of 10 score."
Best Affordable Curved Gaming Monitor?
See for yourself! You can check out ThinkComputers.org's full review here: https://www.thinkcomputers.org/viotek-gn32q-32-inch-curved-1440p-144hz-monitor-review/
Fan of podcasts? Listen to ThinkComputers discuss the GN32Q on episode 133 of their ThinkComputerPodcast. The discussion starts at the 11:45-minute mark.
(Source: Content and images from https://www.thinkcomputers.org/viotek-gn32q-32-inch-curved-1440p-144hz-monitor-review/)